Yom HaShoah Service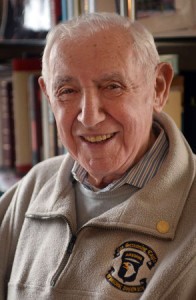 Galloway, N.J. – The Sara and Sam Schoffer Holocaust Resource Center at Stockton University will host the Yom HaShoah Service for 2018: "Unto Every Person There Is A Name - Remembering the 6 million Jewish Victims of the Holocaust" at 7:00 p.m. on Tuesday, April 10th at Beth Israel of Northfield, 2501 Shore Road.
The program will highlight local Holocaust survivors and include a memorial service.
The keynote speaker will be Cantor David Wisnia of Levittown, P.A., a Holocaust survivor who was a young teenager when the German Army invaded Poland. Wisnia will share his story of the Holocaust, both as a survivor and a liberator in the army.
Wisnia was a prisoner for three years in Auschwitz–Birkenau, where he survived by singing to entertain the Nazis. He was transferred to Dachau in December 1944, surviving the Death March, and managing to escape. He was soon found and rescued by the American 101 Airborne Division. Joining with the 506th Parachute Infantry, he engaged actively in combat during the closing days of the war with Germany in 1945.
The event is free and open to the public. Seating is on a first come, first serve basis.
For more information on this event, please contact The Sara and Sam Schoffer Holocaust Resource Center at 609-652-4699.
# # #
Contact:
Diane D'Amico
Director of News and Media Relations
Galloway, N.J. 08205
Diane.D'Amico@stockton.edu
609-652-4593
stockton.edu/media