Writers Resist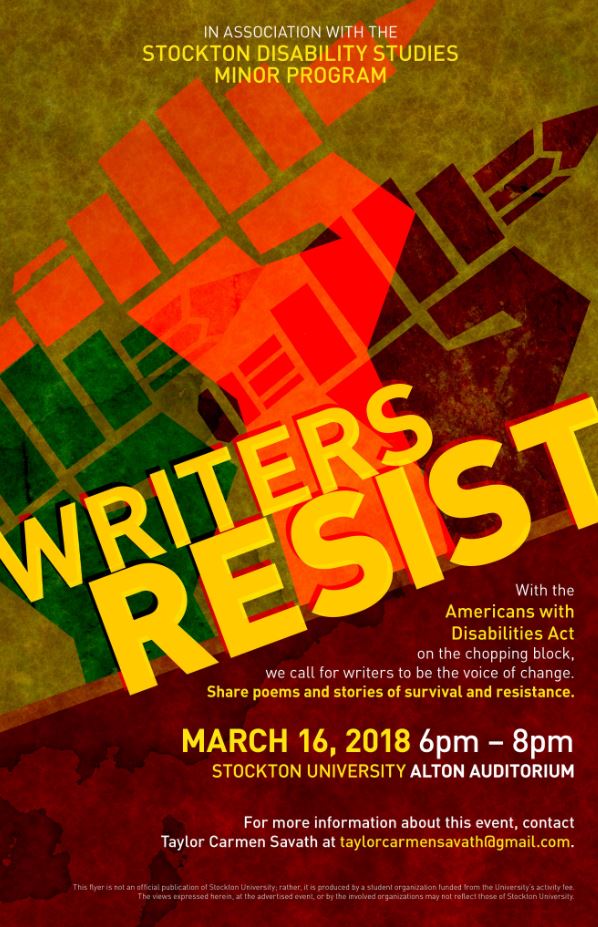 Galloway, N.J. – Stockton University's Disability Studies Minor program will host a special program at 6 p.m., March 16 in the Alton Auditorium to raise awareness of proposed cuts to the Americans with Disabilities Act.
Titled "Writers Resist," the program will feature readings of stories and poems on survival and resistance. Those with or without disabilities are welcome to present their poems and stories on stage.
"The event will focus on writers as a voice for change," said Stockton's Activist-in-Residence and producer of the program Travis Love. "The works will showcase individuals surviving and thriving in a world that sees people with disabilities as invisible."
After the readings, the audience will participate in a letter signing.
"We will use the energy (from the program) to make change," said event coordinator Taylor Carmen Savath. "Each audience member will sign a letter to their senator asking them to protect the civil rights of the disabled by voting no on the bill."
For more information, contact Taylor Carmen Savath at taylorcarmensavath@gmail.com
# # #

Contact:
Diane D'Amico
Director of News and Media Relations
Galloway, N.J. 08205
Diane.D'Amico@stockton.edu
609-652-4593
stockton.edu/media