Walk to Remember
Galloway, N.J. – A survivor of the genocide in Rwanda will speak at a special "Walk to Remember" at 4 p.m. Monday, April 9 at the Stockton University Campus Center.
The event is sponsored by Stockton's Master of Arts in Holocaust and Genocide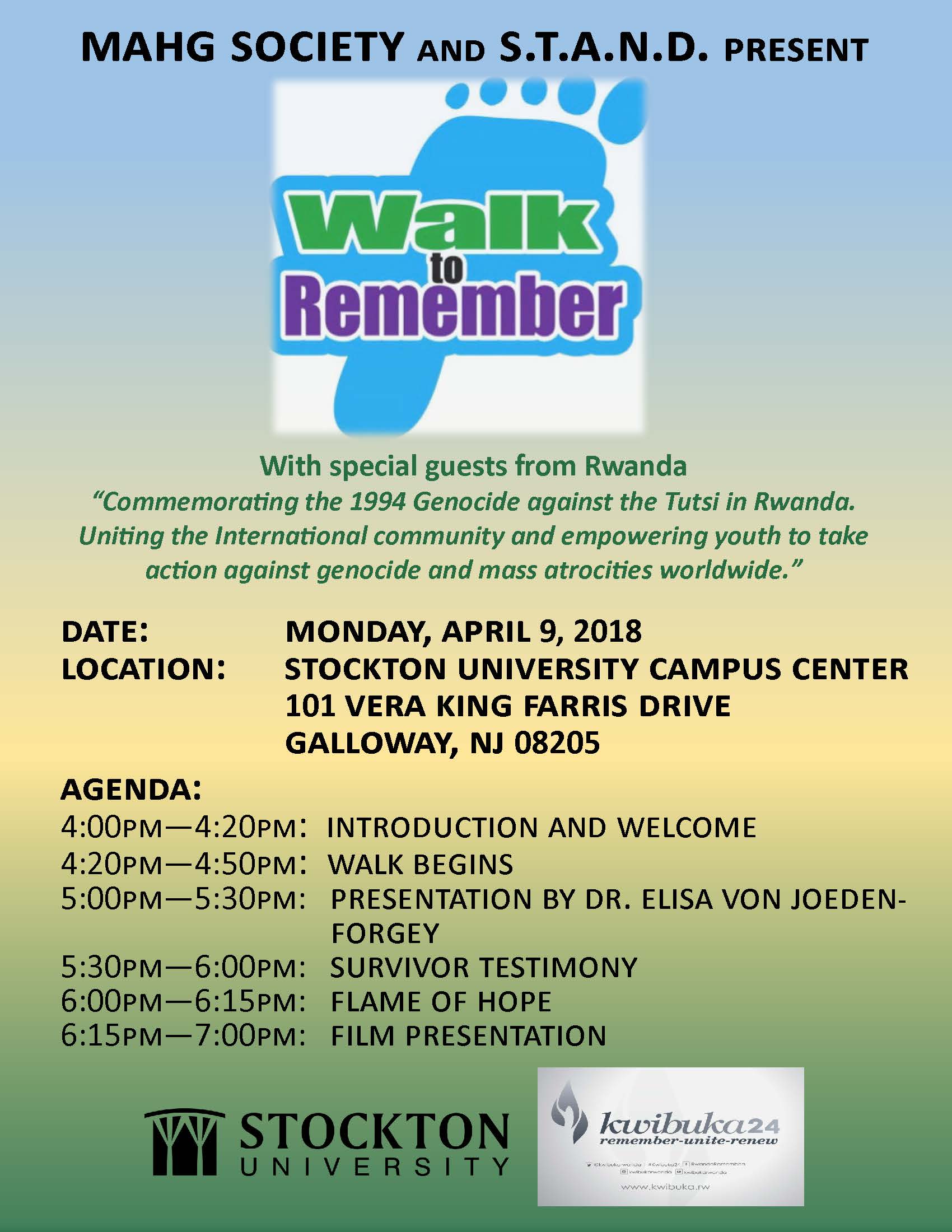 Studies (MAHG) Society and student organization Stockton Take Action Now: Darfur (S.T.A.N.D.).
The "Walk to Remember" commemorates the 1994 genocide against the Tutsi. It will begin with a walk around campus, leaving from the Campus Center Main Hall.
It will be followed at 5 p.m. by a presentation on the stages of genocide and its prevention by Professor Elisa Von Joeden Forgey, and the testimony from a survivor, held in the Campus Center Board of Trustees Room.
There will also be a showing of the documentary Secrets of a Thousand Hills about the Rwandan Genocide, which includes witness and survivor testimonies and information on the creation of genocide memorial sites.
"Walk to Remember" is an initiative developed and primarily conducted by young people in Rwanda whose aim is to engage the youth in the commemoration and honoring of the victims of the 1994 Genocide against the Tutsi while building a future generation that is free of divisionism.
Since 2009, over 50,000 individuals have participated in 'Walk to Remember' activities worldwide.
Stockton University has a strong commitment to genocide education and to the prevention of genocide across the globe. The university has various programs that show this commitment. For more information on the programs offered at Stockton, please visit stockton.edu/holocaust-resource
This event is free and open to the public. For more information on the event, please visit Stockton.edu
# # #
Contact:
Diane D'Amico
Director of News and Media Relations
Galloway, N.J. 08205
Diane.D'Amico@stockton.edu
609-652-4593
stockton.edu/media