Thomas Dolby at Dante Hall
Atlantic City - The "Thomas Dolby Summer Tour" will come to Atlantic City with an evening of music and story-telling on Monday, August 6 at 8 p.m. at Stockton University's Dante Hall Theater, 14 N. Mississippi Ave.
Dolby, musician, video director, author, and now a university professor, is set for a short U.S. tour in July and August 2018 with a show titled "An Evening of Music and Storytelling With Thomas Dolby."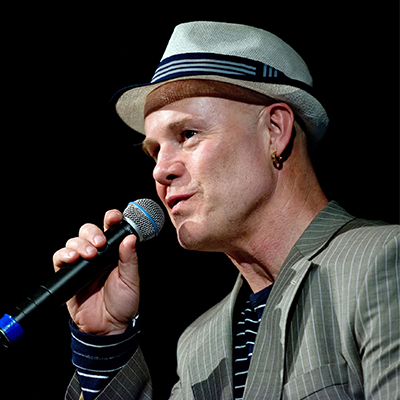 The tour coincides with the release of his 2-CD greatest hits collection "Hyperactive," on July 27 as part of Bertelsmann Music Group's (BMG) Masters Collection series.
Dolby will allow members of the audience to randomly pick songs from his 30-year catalog in this intimate solo performance. He will tell the story behind the creation of each song, while simultaneously breaking down its musical parts, synth sounds, and lyrics. The resulting music will be output from his laptop and keyboards, and projected on a screen behind him, along with personal photos and memorabilia. Each performance will therefore be a slightly different audiovisual experience, with surprises each night.
Aside from his successful solo hits such as "She Blinded Me With Science" and "Hyperactive," Dolby is known as a synthesist and producer for who has worked with David Bowie, Roger Waters, Stevie Wonder, Foreigner, Def Lepperd, George Clinton, and Joni Mitchell. His acclaimed memoir, "The Speed of Sound (Flatiron/Macmillan)," was an Amazon Bestseller in its category, and a 2016 NPR Book of the Year.
"These shows will give me an opportunity to expand on some of the stories in my book without pulling any punches," said Dolby. "I'll be unstitching the songs, as I've found audiences love to get a peek 'under the hood' and into an artist's creative methods."
Since completing 12 years as Music Director of the TED Conferences in 2012, Dolby has been teaching music at Johns Hopkins University in Baltimore. He will launch a new undergraduate degree course this fall at the Peabody Institute, focusing on music composition and 3D sound design for virtual and augmented reality. This will be the first of its kind at a major U.S. university.
The tour is sponsored in part by Roland Corp., manufacturer of the world's most iconic synthesizers, guitar pedals and drum machines. FantaSea Resorts is also sponsoring the Dante Hall appearance.
Tickets are $30 and $35 and can be ordered by calling the box office at 609 626-3890 or online at Dantehallstockton.org
# # #
Contact:
Stephanie Clineman
Dante Hall Theater
Atlantic City, NJ 08401
Stephanie.Clineman@stockton.edu
(609) 626-3846
www.stockton.edu/dantehall