Launch of "Stockpot" Literary Magazine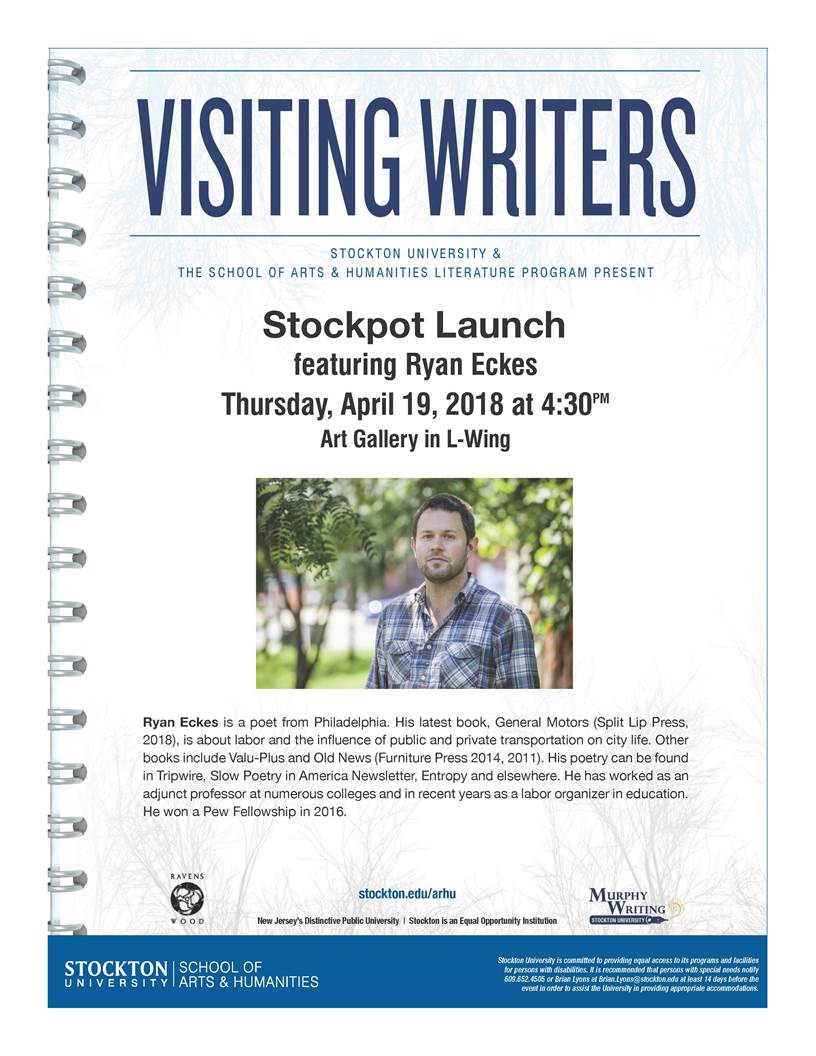 Who: School of Arts & Humanities, Literature Program

What: 44th Anniversary Launch of "Stockpot," Stockton University's Literary Magazine

When: 4:30 p.m., Thursday, April 19

Where: L Wing Art Gallery

Event Description: After its first publication in 1975, the "Stockton State Literary Magazine" was renamed to "Stockpot," and has since been published every April by the Stockton Literature Society, a student organization.
To celebrate the 44th Anniversary of the magazine, Ryan Eckes, Philadelphia based poet will share his works. After his presentation, featured students will read and showcase their works.
This year's launch was coordinated by junior Literature majors Kent Mattia and Jamie Walters.

About the Featured Poet: Ryan Eckes, a 2016 Pew Fellow has worked as an adjunct professor at numerous colleges and in recent years as a labor organizer in education. His latest book, "General Motors" (Split Lip Press, 2018), concentrates on labor and the influence of public and private transportation on city life. Other books include "Valu-Plus" and "Old News" (Furniture Press 2014, 2011). His poetry can be found in publications including "Tripwire," "Slow Poetry in America Newsletter" and "Entropy."

Cost: Free and open to the public.

How to Register: No formal registration is required. For more information, contact Cynthia King associate professor of Creative Writing at cynthia.king@stockton.edu.
Contact:
Diane D'Amico
Director of News and Media Relations
Galloway, N.J. 08205
Diane.D'Amico@stockton.edu
609-652-4593
stockton.edu/media