Murphy Writing New Year's Retreat
January 12 - 13, 9:57a.m. - 9:57a.m.
Atlantic City, NJ – Murphy Writing of Stockton University will present a New Year's Writing Retreat at Stockton's Atlantic City campus, 3711 Atlantic Ave., on Saturday and Sunday, Jan. 12-13.
Participants may attend one or both days. Each of the workshops will offer craft discussion, writing prompts, writing time, sharing and inspiration.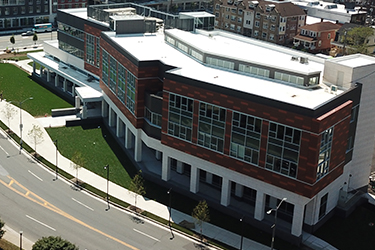 Saturday's workshop choices include:
- Prose Critique Intensive with Judith Lindbergh
- How To Begin Your Novel with Michelle Cameron
- Creative Nonfiction, Memoir and You with Amanda Morris
- Tell It Like It Was: Storytelling About Your Life with Anndee Hochman
- Inventive Intensive: A Poetry Writing Mini-bootcamp with BJ Ward
Sunday's workshop is for writers of all genres:
- New Year, New You: A Writing Workshop with Peter E. Murphy

The retreat will also offer opportunities to share new work in read-around sessions.

Evening events will be open to the public and include a Writer's Happy Hour from 7:00-8:30 p.m. on Friday, January 11, and a Story Slam on Saturday, January 12 from 7:30-9:30 p.m.
"Writers are expected to be introverts who shut themselves away and go at it alone," Murphy said. "But, they don't have to be. When we write together, we create a supportive community that helps us make breakthroughs in our work."

"I loved how welcoming the retreat was," said Jenna Geisinger of Lanoka Harbor, NJ who attended a previous Murphy Writing Event. "I truly felt among a community of writers rather than people promoting themselves. The workshop was encouraging and informative. It evaporated my writers' block. I'm really looking forward to the next one."

All tuition options include the workshop, lunch, evening Story Slam program and six hours of professional development credit for teachers. The discounted fee for attending both days is $195. The cost for Saturday only is $115 and Sunday only is $100.
Advance registration is required. For full registration information, visit stockton.edu/murphywriting or call 609-626-3594. Other Murphy Writing workshops planned for 2019 include a getaway to Florida from Feb. 10-15 and a getaway to Scotland from Aug 1-9.
# # #
Contact:
Diane D'Amico
Director of News and Media Relations
Stockton University
Galloway, N.J. 08205
Diane.DAmico@stockton.edu
609-652-4593
609-412-8069
stockton.edu/media