Mindfulness-Based Stress Reduction
April 11 - May 2, 6:00 p.m. - 7:15 p.m.
Who: Stockton at Manahawkin; Elizabeth Burke Beaty, Certified Professional Life Coach & Mindfulness Educator
What: Introduction to Mindfulness-Based Stress Reduction
When: 6-7:15 p.m., Wednesdays, April 11, 18, 25 & May 2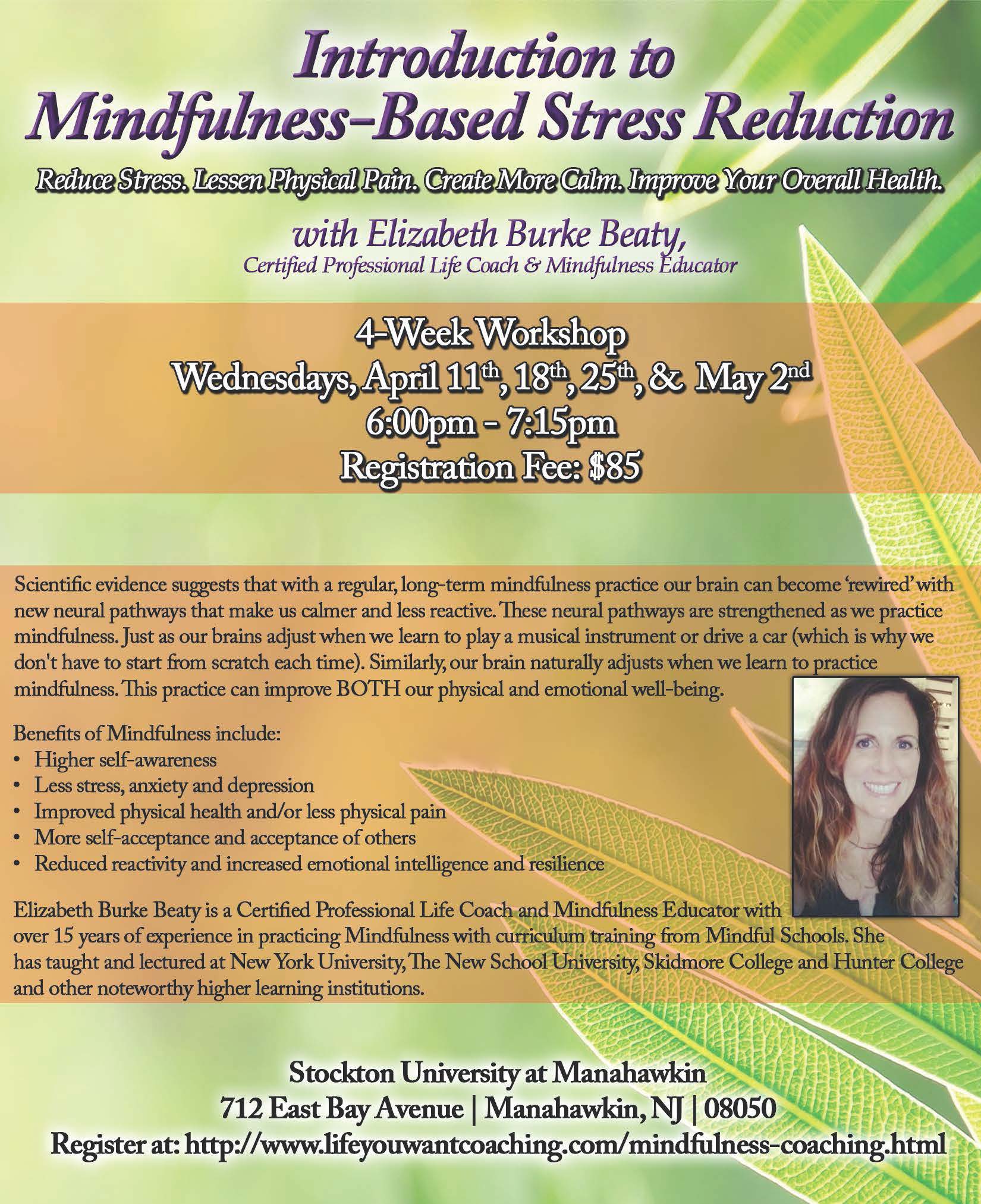 Where: Stockton at Manahawkin 712 East Bay Ave Manahawkin, N.J. 08050
Event Description: Scientific evidence suggests that with a regular, long- term mindfulness practice, our brain can be rewired with new neutral pathways that make us calmer and less reactive. These neutral pathways are strengthened as we practice mindfulness. Just as our brains adjust when we learn to play a musical instrument or drive a car, our brain naturally adjusts when we learn to practice mindfulness. This practice can improve both our physical and emotional well-being.
Benefits of Mindfulness include:
Higher self-awareness
Less stress, anxiety and depression
Improved physical health and/or less physical pain
More self-acceptance of others
Reduced reactivity and increased emotional intelligence & resilience
More overall joy and peace
During these sessions, participants will learn techniques in Mindfulness-Based Stress Reduction.
About the Instructor: Elizabeth Burke Beaty is a certified professional life coach and mindfulness educator with over 15 years of experience in practicing mindfulness with curriculum training from mindful schools. She has taught and lectured at New York University and many other noteworthy higher learning institutions.
Cost: $85 for 4 sessions.
How to Register: Open to the public. Please visit http://www.lifeyouwantcoaching.com/mindfulness-coaching.html to register. Registration is open until April 6.


Contact:
Diane D'Amico
Director of News and Media Relations
Galloway, N.J. 08205
Diane.D'Amico@stockton.edu
609-652-4593
stockton.edu/media