11th Jersey Shorecast
Galloway, N.J. - The Lloyd D. Levenson Institute of Gaming, Hospitality & Tourism (LIGHT) at Stockton University will host its 11th annual New Jersey Shorecast on Thursday, May 9 at the Stockton University Atlantic City Academic Center, 3711 Atlantic Avenue. Doors open at 8:30 a.m. and the program begins at 9 a.m.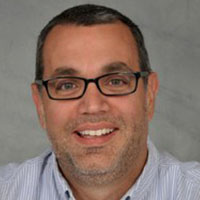 Guest Speaker will be Mark Callazzo, CEO of Alpha Funding Solutions, a real estate investment firm. Callazzo also owns the Iron Room Restaurant and co-owns Tennessee Avenue Beer Hall in Atlantic City. His newest venture, Rhythm and Spirits, is scheduled to open this summer.
A panel of experts will discuss the gaming, hospitality and tourism industries' performance in 2018, challenges and emerging trends for the region, and predicted impacts and outcomes for the 2019 season.
Panelists will be:
Michael Busler, professor of Business Studies at Stockton;
Rummy Pandit, executive director of the Lloyd D. Levenson Institute of Gaming, Hospitality & Tourism (LIGHT) of Stockton (Moderator);
Michael Tidwell, director of sales & marketing, Seaview Dolce Hotel & Golf Club;
Brian Tyrrell, professor of Hospitality and Tourism Management Studies at Stockton University;
Diane Wieland, director of the Cape May County Department of Tourism;
Jim Wood, President & CEO, MeetAC;
Jim Ziereis, vice president, hotel sales at Tropicana.
The event is open to the public but space is limited. Register at www.stockton.edu/LIGHT.
Dr. Rummy Pandit, executive director of LIGHT, is available for interviews on this event or other topics related to gaming, hospitality and tourism in New Jersey. To arrange an interview, please contact Dr. Rummy Pandit at rummy.pandit@stockton.edu
The Lloyd D. Levenson Institute of Gaming Hospitality & Tourism (LIGHT) at Stockton University provides a forum for public policy discussions regarding the gaming, hospitality and tourism industries in New Jersey. LIGHT is located at the Stockton-Rothenberg Building, 3430 Atlantic Ave., Atlantic City, N.J. 08401. Phone: 609-626-3893; email: LIGHT@stockton.edu; online: www.stockton.edu/light
# # #
Contact:
Diane D'Amico
Director of News and Media Relations
Galloway, N.J. 08205
Diane.D'Amico@Stockton.edu
609-652-4593
stockton.edu/media