What Sweeter Music?
Galloway, N.J. - Why just attend one holiday concert when you can hear several Stockton choirs at one event at the choral holiday concert "What Sweeter Music?" at 7:30 p.m. Dec. 2 in the Stockton Performing Arts Center.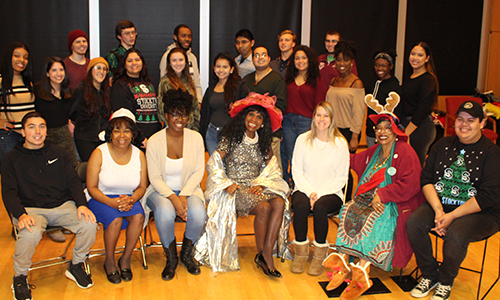 The choirs include the University Chorus led by Professor of Music Beverly Vaughn, the Stockton Chorale led by Professor Neil Aaronson, the Stockton Pop Choir led by Assistant to the Provost Joseph Sramaty, and the Stockton Oratorio Society, made up of students and community members. Special guests the Freedom Singers, a group of students who performed at the Fannie Lou Hamer Symposium, will also perform.
The performances will include holiday classics, popular music, and holiday music from the Renaissance era.
Tickets are $12, and $10 for students and seniors. They can be purchased online through the Performing Arts Center at Stocktonpac.org or at the box office from 9 a.m. to 3 p.m. Monday through Friday and 90 minutes before the show. For ticket information call 609 652-9000.
# # #
Contact:
Diane D'Amico
Director of News and Media Relations
Stockton University
Galloway, N.J. 08205
Diane.DAmico@stockton.edu
609-652-4593
609-412-8069
stockton.edu/media