Fall Choreography Project
November 30 - December 1, 12:29 p.m. - 12:29 p.m.
Galloway, N.J. – Eleven student choreographers will present their original works at the Fall Choreography Project from Nov. 29-Dec. 1 in the campus Experimental Theatre.
Stockton University's Arts and Humanities Performing Arts program presents the Fall Choreography Project, an adjudicated performance for rising choreographers, November 29-Dec. 1 in the Galloway campus Experimental Theatre.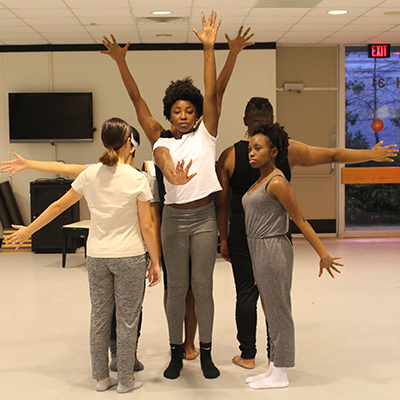 Continuing a 29-year tradition of presenting unpredictable and thought-provoking works from choreographers at all stages of their artistic development, the Fall Choreography Project focuses on giving promising dance makers from the Stockton Dance Company a platform to exhibit their work.
This fall's student choreographers are Jaime Gasborro, Mackenzie Kitchen, Kiersten Carter, Nichelle Matthew, Melissa Langholff, Melissa Nash, Myles Mungo, Vanessa Camporeale, Rebecca Fino, Amanda Dodd and Indy Caudle.
"The dances for this show were chosen by a panel of Stockton faculty, and represent the most exciting choreographic ideas coming from the Stockton Dance Company members," said Assistant Professor of Dance Beau Hancock. "This production is a chance for these maturing makers to test the expertise they hone inside the studio classroom."
Indy Caudle, a senior dance major from Hillsborough, said presenting work for the Fall Choreography Project is a great opportunity.
"Creating work with my peers is an invaluable experience that has become a highlight of being a part of the Stockton Dance Program," Caudle said. "Composition classes at Stockton have given me the tools that will prepare me for a career as a choreographer."
"Fall Choreography Project" will be performed at 7:30 p.m. Thursday through Saturday, Nov. 29-December 1, and at 2 p.m. on Saturday, Dec. 1. Tickets are $10 for general admission and $8 for students and seniors with ID.
Tickets can be ordered online at www.stockton.edu/pac or by calling the Box Office at (609)-652-9000. The Stockton Box Office is open Monday to Friday from 9 a.m. to 3 p.m. and a half-hour before each performance. For patrons with special needs, the university offers wheelchair-accessible seating, listening-assistive devices, and large-type programs. Please identify any needs you may have when making a reservation.
# # #
Contact:
Diane D'Amico
Director of News and Media Relations
Stockton University
Galloway, N.J. 08205
Diane.DAmico@stockton.edu
609-652-4593
609-412-8069
stockton.edu/media