Equal Means Equal
Galloway, N.J. _ A documentary on the status of women in America and the Equal Rights Amendment that features Stockton University Professor of Political Science Linda Wharton will be shown at Stockton at 6 p.m. April 2, in the Campus Center Theatre, followed by a discussion of the film and its issues.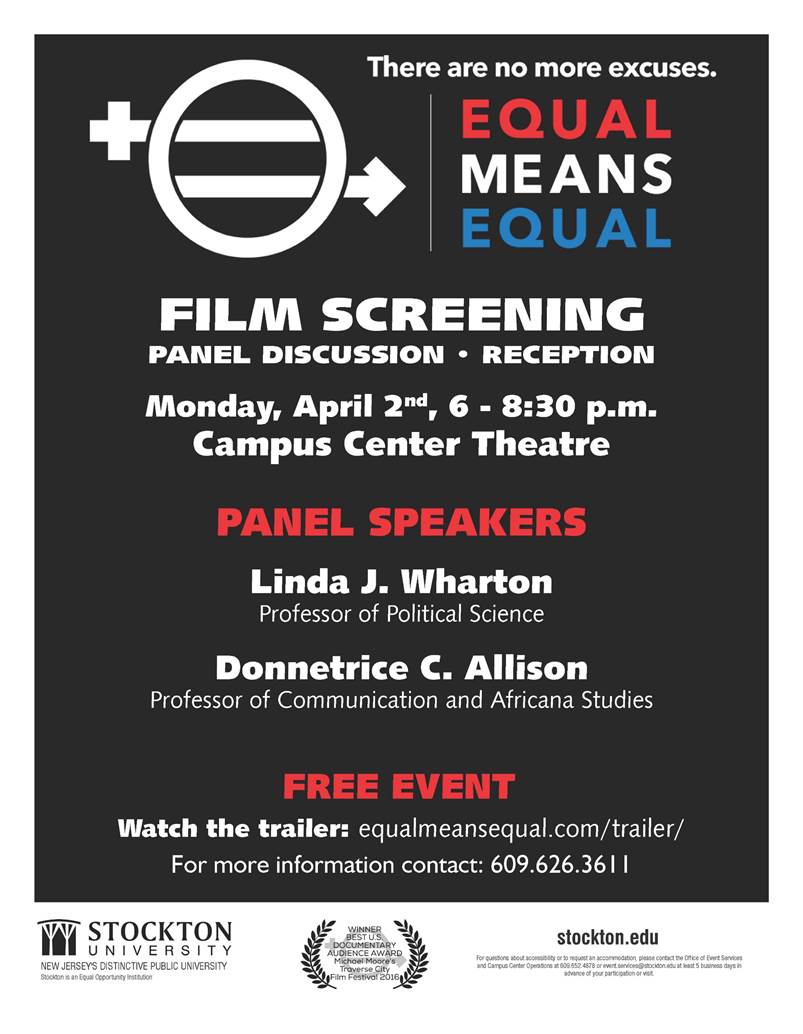 The 2016 film, "Equal Means Equal" discusses issues affecting women including poverty, wage discrimination, rape and sexual assault, pregnancy discrimination, domestic violence and sex trafficking. It makes the argument for reinvigorating the fight to ratify the Equal Rights Amendment.
The film was produced and directed by Kamala Lopez and actress Patricia Arquette.
Wharton got involved through her scholarly work on state equal rights amendments and her equal rights advocacy for women before she came to Stockton. As the Managing Attorney of the Women's Law Project in Philadelphia, she litigated gender discrimination cases under Pennsylvania's Equal Rights Amendment. Lopez asked her to advise on legal issues for the documentary.
"I came in as a consultant, helping her to understand the law," Wharton said. She said the ERA is needed now more than ever because strict constructionists say that the U.S. Constitution says nothing about protection against gender discrimination.
Congress passed the ERA in 1972, but never got the necessary 38 states to ratify it before the 1982 deadline.
"(The ERA) has continued to be reintroduced in each Congress, but there is little support for it in the current Congress," Wharton said. "But—as reflected in the #metoo and #timesup movements, there is strong public support for gender equality reforms."
Following the film, Wharton along with Donnetrice C. Allison, professor of Communication and Africana Studies and moderator Eileen Conran-Folks, director of Stockton's Hammonton and Manahawkin sites, will discuss the film and current issues facing women.
The event is free and open to the public. A reception will follow the event.
# # #
Contact:
Diane D'Amico
Director of News and Media Relations
Galloway, N.J. 08205
Diane.D'Amico@stockton.edu
609-652-4593
stockton.edu/media