Breaking the Silence on Sexual Violence: Violence in the Media and Your Rights
Start Date - End Date (Event Not Live Yet)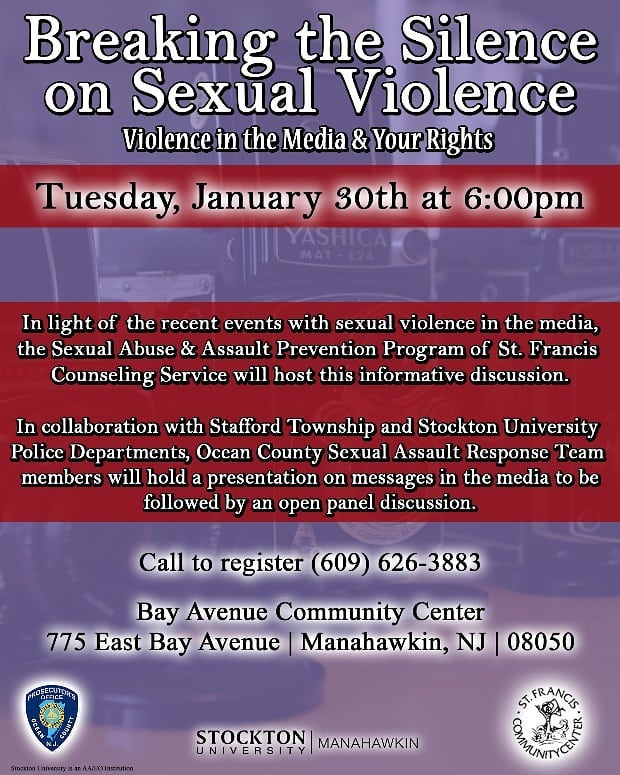 Who: Stockton University at Manahawkin; Ocean County Prosecutor's Office; St. Francis Community Center; Stockton University Police Department; Bay Avenue Community Center & Stafford Township Police Department.
What: "Breaking the Silence on Sexual Violence: Violence in the Media and Your Rights" workshop
When: 6 p.m., Tuesday, Jan. 30, 2018
Where: Bay Avenue Community Center, 775 East Bay Ave. Manahawkin, N.J. 08050
Event Description: The Sexual Abuse & Assault Prevention Program of St. Francis Counseling Service will host an informative discussion on the topic of sexual violence and how it has been brought to light through the media.

In addition, the Stafford Township and Stockton University Police Departments and the Ocean County Sexual Assault Response Team members will hold a presentation on messages in the media to be followed by an open panel discussion.

Cost: Free and open to the public.
How to Register: Seating is limited. Please call 609-626-3883 to register.
Contact:
Diane D'Amico
Director of News and Media Relations
Galloway, N.J. 08205
Diane.D'Amico@stockton.edu
609-652-4593
stockton.edu/media