Eating for a Healthy Heart
Who: Stockton at Manahawkin; The School of Health Sciences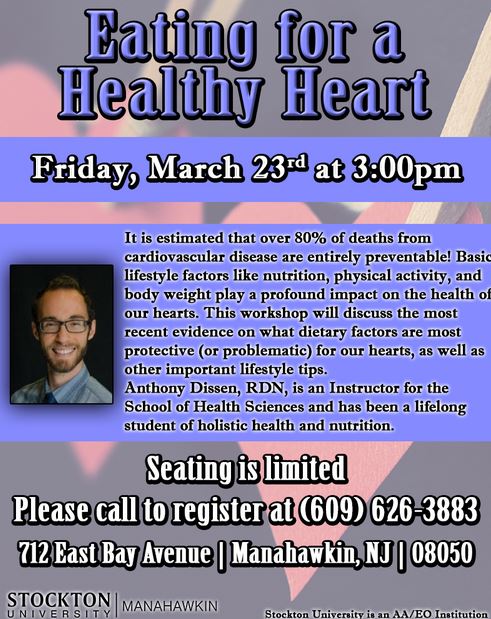 What: "Eating for a Healthy Heart"
When: 3 p.m., Friday, March 23, 2018
Where: Stockton at Manahawkin 712 East Bay Ave Manahawkin, N.J. 08050
Event Description: It is estimated that over 80 percent of deaths from cardiovascular disease are entirely preventable. Basic lifestyle factors like nutrition, physical activity and body weight play a profound impact on the health of our hearts. During "Eating for a Healthy Heart," Anthony Dissen, RDN and instructor for the School of Health Sciences will discuss the most recent evidence on what dietary factors are most protective (or problematic) for our hearts, as well as other important lifestyle tips. Dissen has been a lifelong student of holistic health and nutrition.
Cost: Free and open to the public.
How to Register: Seating is limited. Please call 609-626-3883 to register.


Contact:
Diane D'Amico
Director of News and Media Relations
Galloway, N.J. 08205
Diane.D'Amico@stockton.edu
609-652-4593
stockton.edu/media