Bacharach Institute Ability Fair
Galloway, N.J. - Bacharach Institute for Rehabilitation will hold its 4th Annual Ability Fair on Tuesday, July 31 from 10 a.m. - 2:30 p.m. in the Campus Center Event Room at Stockton University.
This free event is a showcase of over 60 exhibitors featuring products, providers and services designed to improve the health and well-being of adults and children of all ages with physical challenges.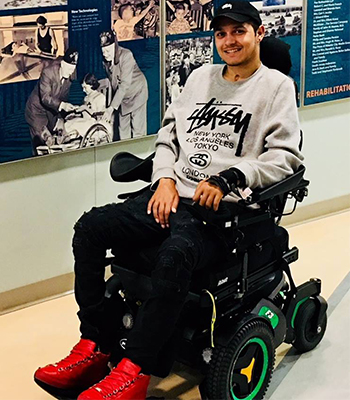 This year's Master of Ceremonies is Anthony Marquez, 18, of Egg Harbor Township, a fierce competitor and a determined patient recovering from a spinal cord injury. His great success in using Bacharach's neuro-recovery robots has made him an outspoken advocate for the benefits of rehabilitation. He will speak at 10:45 a.m.
At 11:45 a.m. Mike "Blade" Braxton Jr., a National Para-athlete, an Amputee Coalition Certified Peer Volunteer, will speak. Braxton is an Ampovation Support Group Leader and Atlantic City Police Detective who lost lower leg in motorcycle accident in 2013.
The fair is the only convention of its kind in the Philadelphia/South Jersey area. The approximately 400 attendees include adults, children, clinicians, care-takers, seniors, day groups and students.
Free five-minute hearing screenings will be available from 10 a.m. to 2 p.m. in Meeting Room 1 by Bacharach Doctors of Audiology.
An exercise class for those with Parkinson's disease, led by Bacharach's Kim Cullen, will be held from 1-1:45 p.m.
Attendees at the fair will also have the opportunity to meet a therapy horse with HEARTS Therapeutic Riding Center. This unique local program, located in Egg Harbor Township, provides equine assisted activities to adults and children of all ages who have physical, mental or emotional challenges.
Major sponsors include The Christopher and Dana Reeve Foundation, AtPro, Hard Rock Casino and Hotel Atlantic City, Atlantic Medical Imaging and Seacrest Village.
The Ability Fair is free, open to the public and scooter, walker and wheelchair accessible. Free brown bag lunches will be available to attendees. There is free, accessible parking.
Visit AbilityFair.org or call Jamie at (609) 748-5250 for more information and to pre-register.
# # #
Contact:
Diane D'Amico
Director of News and Media Relations
Galloway, N.J. 08205
Diane.D'Amico@stockton.edu
609-652-4593
stockton.edu/media