African-American Cultural Heritage Short Course
April 12 - 13, 2:39p.m. - 2:39p.m.
Galloway, N.J. – The Stockton University Office of Continuing Studies will host its first two-day "African American Cultural Heritage Short Course" from 8 a.m. to 5 p.m. on April 12 and 13 at the Stockton Atlantic City Academic Center, 3711 Atlantic Ave.
The event, titled "Resiliency from the Atlantic City Northside to South Jersey" will feature tours and workshops about local African American history.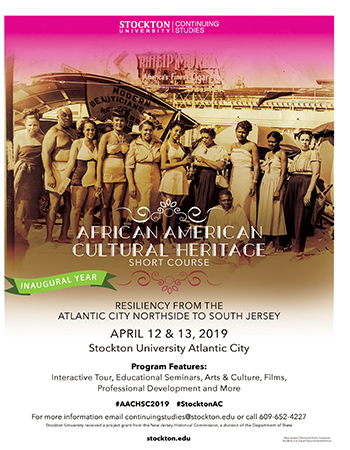 Friday, April 12 will consist of a daylong bus tour of historic African American landmarks between Atlantic City and Cape May. The bus will leave Stockton Atlantic City at 9 a.m. and return at 5 p.m. The tour will be led by Ralph Hunter, director of the African American Heritage Museum of Southern New Jersey.
Saturday, April 13 will feature opening remarks by Hunter and a choice of 13 workshops. Among the featured topics are:
_ "A History Discovered: Chicken Bone Beach:" Henrietta Shelton and Cynthia Primas of ChickenBoneBeach.org will tell the story of "Chicken Bone Beach" and its role in the African American communities of Atlantic City.
_ "Reminisces of a Club Harlem Show Girl:" Yvonne Walton will discuss her experiences working as a showgirl in Atlantic City's famous Club Harlem in the 1960s.
_ "From African Griots to Hip Hop MCs—How Music Helped to Maintain Our Cultural Roots:" Stockton Professor of Communications and coordinator of Africana Studies Donnetrice Allison will explore some of the ways hip-hop music was born out of African oral traditions, and how it helped African Americans maintain cultural connectivity.
Other workshop topics include Beginning Geneology, An Introduction to Oral History, African American Vernacular English, Photography and Storytelling, and African American Caregivers.
"We are trying to bring education about the African American community to the larger community," said Allison. "There is a history and legacy in South jersey that people don't know about."
The program is supported by a grant from the New Jersey Historical Commission, a division of the Department of State.
Registration before March 15 is $45 for Friday, $30 for Saturday, or $68 for both days.
After March 15 registration is $50 for Friday, $40 for Saturday and $83 for both days.
For more information and to register, visit stockton.edu/aachsc or call 609-652-4227.
# # #
Contact:
Diane D'Amico
Director of News and Media Relations
Stockton University
Galloway, N.J. 08205
Diane.DAmico@stockton.edu
609-652-4593
609-412-8069
stockton.edu/media