Spring Dance Concert
Galloway, N.J. – Stockton University's Arts and Humanities Performing Arts program presents the Spring Dance Concert at 7:30 p.m. March 3-5 at the Stockton Performing Arts Center.
Tickets are $12 for general admission and $10 for students, seniors, and alumni.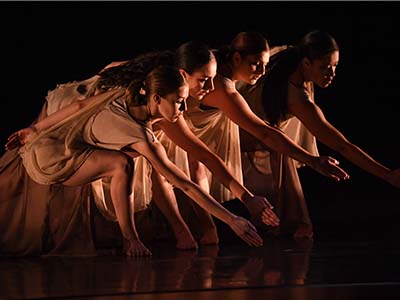 The Spring Dance Concert brings together the gifted artists of the Stockton dance community, presenting dances from notable choreographers. Michael Nickerson-Rossi's dances have been hailed for their edge and beauty, and in his work with the Stockton Dance Company he challenges the performers with a complex mixture of movements.
Renowned performer and choreographer Lauren Putty-White's new dance 'Joy' for the Stockton Dance Company is a vibrant, riveting work set to jazz music.
Resident choreographers Beau Hancock, Chandra Moss-Thorne, Caitlin Quinn Pittenger, and Rain Ross share eclectic, imaginative choreography. They are joined by student choreographers Cecilia Mitchell of Montclair and Naomi Pagan of Washington Township.
"Having my work ('Freedom of the Rival" ) presented in the Spring Dance Concert counts as a major accomplishment within my dance career at Stockton. This has inspired me to continue to create dances after college and take what I've learned and use it in the real world," Mitchell said.
Pagan said it was a tremendous privilege to share her work.
"Atelophobia is a solo that I created a year ago, which I was able to pour my heart and soul into, and being able to perform it again, but in front of an audience this time, is an honor," Pagan said.
Tickets can be ordered online at www.stockton.edu/pac or by calling the Box Office at (609) 652-9000. The Stockton Box Office is open Tuesday to Friday from 10 a.m. - 3 p.m. and a half-hour before each performance.