'Spamilton'
Galloway, N.J. – Stockton University will present the hit musical comedy 'Spamilton: An American Parody' at the Performing Arts Center at 7:30p.m. Aprl 29.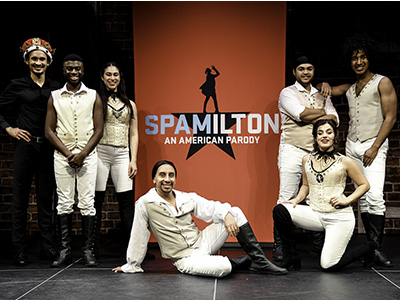 Created by Gerard Alessandrini, the comic mastermind behind the long-running hit Forbidden Broadway and performed by a versatile cast of eight, Spamilton: An American Parodyis a side-splitting new musical parody.
Marilyn Stasio of Variety mused, "Hip-hop, Broadway showtunes, Viennese waltzes — is there anything this guy can't write? No, not Hamilton creator Lin-Manuel Miranda, but Gerard Alessandrini, whose ingenious parody Spamilton simultaneously salutes and sends up Miranda and his signature musical."
Ben Brantley of The New York Times said, "This smart, silly, and often convulsively funny thesis, performed by a motor-mouthed cast that is fluent in many tongues, is the work of that eminent specialist in Broadway anatomy, pathology, and gossip, Gerard Alessandrini."
Tickets are $35 with discounts for seniors, students and groups.
For more information or to purchase tickets visit www.stockton.edu/pac/. Tickets also are available at the box office from 10 a.m. to 3 p.m. Monday through Thursday, and 90 minutes before showtime. Call 609-652-9000.