The King's Singers
Galloway, N.J. - The King's Singers will present "Masterpiece" at Stockton`s Performing Arts Center on 7:30 p.m. Feb. 22.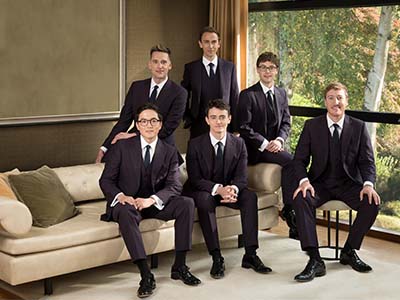 The King's Singers have represented the gold standard in a cappella singing on the world's greatest stages for over 50 years. They are renowned for their unrivalled technique, versatility and skill in performance, and for their consummate musicianship, drawing on both the group's rich heritage and its pioneering spirit to create an extraordinary wealth of original works and unique collaborations..
The King's Singers were formed in 1968, when six recent choral scholars from King's College, Cambridge gave a concert at London's Queen Elizabeth Hall. By chance, the group was made up of two counter-tenors, a tenor, two baritones and a bass, and the group has maintained this formation ever since that debut.
"Masterpiece" is a selection of some of the most iconic of their pieces, from the last 53 years. It's a program that's as full of fun as it is musical brilliance. It's designed to make you laugh and think.
The King's Singers' extensive discography has led to numerous accomplishments including two Grammy Awards, an Emmy Award, and a place in Gramophone magazine's inaugural Hall of Fame.
Tickets are $35 with discounts for seniors, children and groups. For more information or to purchase tickets visit stockton.edu/pac/. Tickets also are available at the box office from 10 a.m. to 3 p.m. Monday through Thursday, and 90 minutes before showtime. Call 609-652-9000.