Cirque Zuma Zuma
Galloway, N.J. – Young and old alike will be dazzled by Cirque Zuma Zuma African acrobats, who will tumble onto the stage at 2 p.m. Saturday Feb. 19 at the Stockton Performing Arts Center.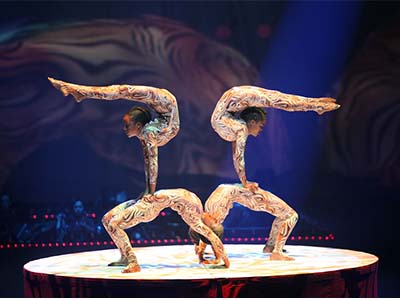 Tickets are $32, with discounts for seniors, children and groups.
Cirque Zuma Zuma is a fast-paced 80-minute program performed by male and female dancers to music of Kanye West, Michael Jackson, Coldplay, The Beatles, Robin Thicke, Usher, Queen, Justin Timberlake and more.
Performances include different types of African culture, including: South African female vocalist, Limbo Dance, female dancers from Africa, South African gumboot dancers, amazing pole acts, Zuma Zuma acrobats, chairs and handstand balancing from Tanzania, comedy, Gabonese Tumblers, contortionists from Ethiopia, The Africa Africa Lion dance, percussionists from Zimbabwe, club and Ethiopian foot table juggling.
Cirque Zuma Zuma has had sell-out seasons in Europe and an extended debut run in Australia. Many describe it as an African-style Cirque du Soleil, which is tribute to the standard of the performers and the quality of the show's live musical score.
Cirque Zuma Zuma features an array of never-before-seen talents mixed with some of the best skills associated with African variety arts. The group employs spot-on technical ability combined with acrobatics and street moves to thrilling effect.
The entertainers pack every show with non-stop action and incredible features, including awe-inspiring acrobats and circus and street performers, which keep audiences on the edge of their seats.
For more information or to purchase tickets visit stockton.edu/pac/. Tickets also are available at the box office from 10 a.m. to 3 p.m. Monday through Thursday, and 90 minutes before showtime. Call 609 652-9000.