Nickerson-Rossi Dance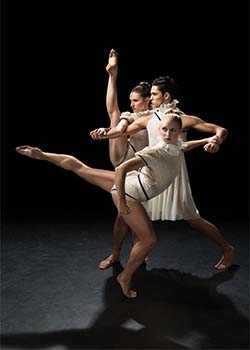 Galloway, N.J. – The compelling and provocative Nickerson-Rossi Dance company - recipient of the 2021 Stockton Dance Company Residency – will perform at 7:30 p.m. Feb. 4 at the Stockton Performing Arts Center.
Tickets are $32 with discounts for seniors, students and children.
The bi-coastal contemporary dance company, founded by Michael Nickerson-Rossi, integrates complex choreography with soulful performances by a talented ensemble of dancers.
Nickerson-Rossi's choreography is filled with complex intricacies that unravel through a beautifully orchestrated mixture of artistic movement and emotional freedom.
Nickerson-Rossi teaches choreography and composition at John Hopkins University "Peabody Conservatory," as well as directs at his school "Palm Springs Dance Academy," while continuing to present concert dance works in theaters worldwide.
The program is sponsored by Stockton's Presidential Initiative Funds and the Division of Academic Affairs.
The dance company's mission is to engage, inspire, and ignite the senses through quality dance programming, education, and outreach.
For more information or to purchase tickets visit www.stockton.edu/pac/. Tickets also are available at the box office from 10 a.m. to 3 p.m. Monday through Thursday, and 90 minutes before showtime. Call 609-652-9000.