Flamenco Vivo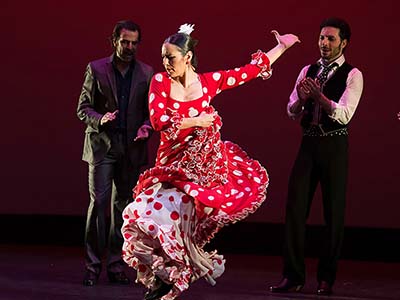 Galloway, N.J. - Flamenco Vivo, America's premier Spanish dance company, will perform 7:30 p.m. Feb. 18 at the Stockton Performing Arts Center.
Tickets are $32 with discounts for seniors, children and groups.
America's premier Spanish dance company, Flamenco Vivo Carlota Santana, builds bridges between cultures using the universal spirit of Flamenco. Tablao Flamenco is a program that captures the spirit of Spain's flamenco cafes.
Named after the wooden floor used by a bailaor (dancer), tablao performances are highly virtuosic and improvisational, offering audiences a rare opportunity to watch the dynamic interplay between song and dance.
Originally known as cafés cantantes – which became popular during the mid-nineteenth century in Spain – tablaos are still among the most popular places to see flamenco today.
For more information or to purchase tickets visit www.stockton.edu/pac/. Tickets also are available at the box office from 10 a.m. to 3 p.m. Monday through Thursday, and 90 minutes before showtime. Call 609 652-9000.