The Life and Legacy of William J. Hughes
Galloway, N.J. - A film celebrating the career of the late Ambassador William J. Hughes, produced by the William J. Hughes Center for Public Policy at Stockton University, will be shown online on Wednesday, March 10.
The one-hour program, "The Life and Legacy of William J. Hughes," will be streamed free over YouTube Live beginning at 7 p.m. and can be accessed through the Hughes Center's website, stockton.edu/hughescenter.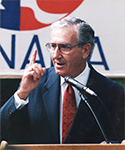 The film chronicles the personal and professional achievements of Hughes, who represented South Jersey's 2nd Congressional District for 20 years and later also served as ambassador to Panama. More than a dozen colleagues and family members of Hughes and his late wife, Nancy, discuss the legacy of the South Jersey native and former Cape May County prosecutor.
As a congressman, Hughes sponsored landmark legislation that banned dumping in the Atlantic Ocean. In his earliest congressional victory, he led the fight to prevent the FAA Technical Center – which is now named after Hughes – from moving to Oklahoma. Hughes championed beach replenishment projects to support the region's tourism industry. He was instrumental in preserving the Pine Barrens from development and securing Wild and Scenic River designations for the Manumuskin and Menantico Rivers.
"The story of Bill Hughes is literally the recent history of South Jersey," said John Froonjian, executive director of the Hughes Center. "The impact of his achievements is still felt in our daily lives."
Upon his retirement from Congress in 1995, then-President Bill Clinton appointed Hughes as ambassador to Panama, where he prepared for the transfer of the Panama Canal from U.S. control to Panama.
While the film viewing is free, viewers are invited to contribute to the William J. Hughes Center for Public Policy, which promotes civil civic engagement through panel discussions, candidate debates, research and public opinion polling. Contributions will directly fund Hughes Center research, civic engagement efforts and Stockton student programs.
"The Hughes Center is a resource for South Jersey. Contributions from the public help us to continue the work in civic engagement and civility in politics embodied by Ambassador Hughes," Froonjian said. "Donations in any amount, no matter how small, are gratefully accepted."
Donations can be made on the Hughes Center website, stockton.edu/hughes-center or contact John Froonjian at john.froonjian@stockton.edu.
Watch a 5-minute film excerpt here for a preview of the what's to come.
About the Hughes Center
The William J. Hughes Center for Public Policy (www.stockton.edu/hughescenter) at Stockton University serves as a catalyst for research, analysis and innovative policy solutions on the economic, social and cultural issues facing New Jersey, and promotes the civic life of New Jersey through engagement, education and research. The center is named for the late William J. Hughes, whose distinguished career includes service in the U.S. House of Representatives, Ambassador to Panama and as a Distinguished Visiting Professor at Stockton. The Hughes Center can be found on YouTube, and can be followed on Facebook @StocktonHughesCenter, Twitter @hughescenter and Instagram @ stockton_hughes_center.
# # #
Contact:
Diane D'Amico
Director of News and Media Relations
Galloway, N.J. 08205
Diane.D'Amico@stockton.edu
609-652-4593
609-412-8069
stockton.edu/media
Stockton University