Sharpe Family Singers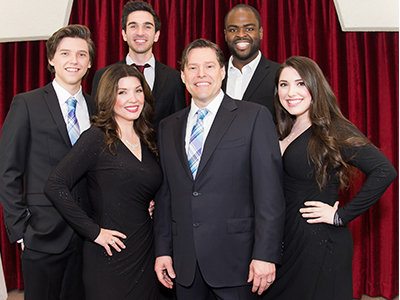 Galloway, N.J. - The Sharpe Family singers will perform at the Stockton University Performing Arts Center at 7:30 p.m. on Friday, Oct. 29.
Broadway performers and producers Ron and Barbara Sharpe first met onstage in the original Broadway production of Les Misérables, where they played the romantic lead roles of Marius and Cosette. After being married onstage over 1000 times, they decided to get married and start a family for real.
The Sharpe Family Singers share their love of Broadway musicals by performing the big show-stopping numbers that are audience favorites around the world. Their repertoire includes songs from new hit Broadway shows like Hamilton and Dear Evan Hansen, blockbuster movies like The Greatest Showman, hits from Disney on Broadway and Broadway's Rock & Roll musicals as well as classic show tunes from Phantom, Guys and Dolls and many more.
For more information or to purchase tickets please call the box office at 609 652-9000 or visit stockton.edu/pac/.