Pre-Kwanzaa Celebration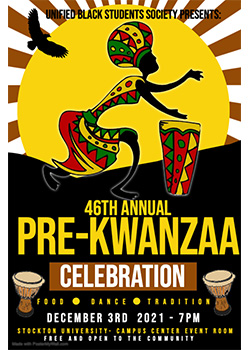 Galloway, N.J. - Stockton University will host its 46th pre-Kwanzaa celebration at 7 p.m. Friday, Dec. 3, in the Campus Center Event Room.
The event, which was founded at Stockton by Distinguished Professor of Social Work and Africana Studies Patricia Reid-Merritt, is sponsored by the Unified Black Students Society.
"Kwanzaa has always represented honor, appreciation, fortitude, solidarity and diversity," said Dianne Stalling, assistant director of student development at Stockton and advisor to Unified Black Students Society (UBSS), led by President Alexsandra Panton. "As we celebrate Stockton's 50th anniversary this year, we also want to celebrate the history of this event at Stockton, which began with a packed audience of community members in the C-Wing cafeteria."
The event is free and open to the community.