Fall Choreography Project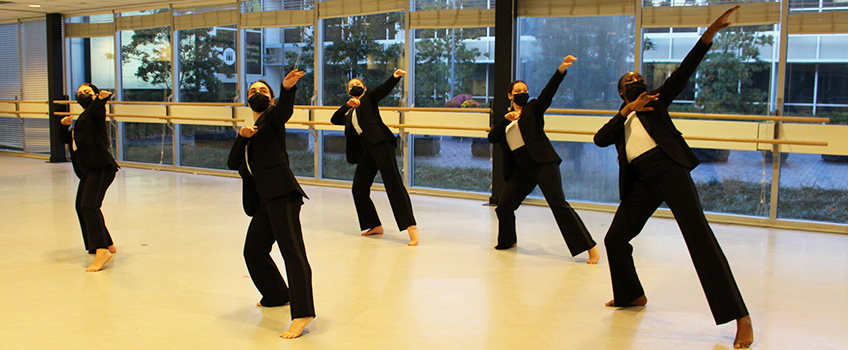 Galloway, N.J. - Stockton University's Arts and Humanities Performing Arts program presents the Fall Choreography Project, an adjudicated performance for rising choreographers, at 7:30 p.m. Dec. 2-4, 2021, in the Stockton Performing Arts Center.
Continuing a 30-year tradition of presenting unpredictable and thought-provoking works from choreographers at all stages of their artistic development, the Fall Choreography Project focuses on giving promising dance makers from the Stockton Dance Company a platform to exhibit their work.
"The dances for this show were chosen by a panel of Stockton faculty, and represent a broad spectrum of the innovative choreographic ideas coming from the Stockton Dance community," said Assistant Professor of Dance Beau Hancock. "This production is a chance for these maturing makers to test the expertise they hone inside the classroom. The Performing Arts Center stage becomes a laboratory for investigation where these choreographers refine their artistic voices."
Tickets are $12 for general admission and $10 for students, seniors, and alumni. Tickets can be ordered online at www.stockton.edu/pac or by calling the Box Office at (609)-652-9000. The Stockton Box Office is open Monday to Friday from 10 a.m. - 3 p.m. and a half-hour before each performance. For patrons with special needs, the university offers wheelchair-accessible seating, listening-assistive devices, and large-type programs. Masks are required.
Students presenting works in the program are:
Madison Derbyshire: Title: Transgressive Boundaries
Sierra Duncan of Pitman: Title: (Dis)connect
Molly Glenn of Farmingdale: Title: Essential Diversion
Katelyn Heinrichs of Phillipsburg: Title: Fault Finder
Brielle Kimley of Franklinville: Title: Improperly Proper
Cecilia Mitchell of Montclair: Title: Freedom of the Rival
Naomi Pagan of Washington Township: Title: Kalopsia
Anodja Peck of Philadelphia: Title: Love U in Advance
Adriana Trigiani of Cherry Hill: Title: Affliction
Deivin Velasquez-Banegas of Pleasantville: Title: Ill Mind of Mine
(Photo _ Student Choreographer Cecilia Mitchell, far right, rehearses her piece "Freedom of the Rival" with dancers Katelyn Heinrichs, Andrea Tammaro, Madison Muniz, and Saita Westervelt. Photo by Diane D'Amico/Stockton University)