Dancers on the Boardwalk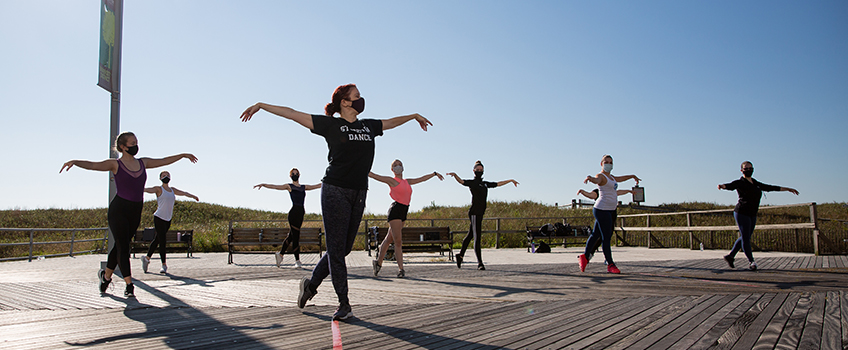 Galloway, N.J. – A group of Stockton dancers will rehearse and perform on the Atlantic City Boardwalk on Friday, April 9. This daylong "happening" culminates with a free public performance outside the Stockton Atlantic City Residential Complex, 3701 Boardwalk.
Associate Professor of Dance Rain Ross said this performance builds on a drive-in dance performance students held in a parking lot on the Galloway campus and an outdoor ballet class she held on the Boardwalk in the fall.
"After a year of isolation, the spring has brought a sense of hope, especially as the vaccines are being rolled out. I wanted to create something that is an event and a performance to showcase this feeling of hope," Ross said.
Ross said students have missed being able to perform in front of an audience during the pandemic. The daylong event will allow passersby to see something unexpected. The students will create the work from 10 a.m.to 1 p.m., break for lunch, then refine and film the work from 2-4 p.m. The final work will be performed at 4:30 p.m. Ross said the public is invited to stop by and watch anytime. Rain date will be April 16.
"I'm excited that we are creating something that is a full day event so many people can experience live performance, whether they plan to come by intentionally or pass by and pause at the unexpectedness," Ross said.
Participating students are seniors Alexa Angelucci of Florence, Ciara Civitello of Egg Harbor Township and Agnes Cancio of Union; junior Cecilia Mitchell of Montclair, and first-year students Abigail Bell of Jackson and Brooke Butler of Baton Rouge, La.
Angelucci said she is excited to finish her senior year with a live performance.
"It has definitely been strange to shift into this virtual experience, especially knowing that I would never perform live on the Stockton stage again," Angelucci said. "That is what makes this opportunity so special, a chance to perform live before I graduate. I am of course looking forward to performing and dancing, but also that my parents will get to see me perform one last time at Stockton."
Mitchell said she has missed collaborating with others, so she jumped at the chance to participate.
"I miss being able to explore ideas and movement with others so I am definitely looking forward to learning, creating and investigating with people again," Mitchell said. "As an artist, being stuck in the pandemic world has been challenging both mentally and physically. I miss being able to see and be a part of live performances, and I am excited to take part in a project that includes both."
# # #
Contact:
Diane D'Amico
Director of News and Media Relations
Galloway, N.J. 08205
Diane.D'Amico@stockton.edu
609-652-4593
609-412-8069
stockton.edu/media
Stockton University