Black Women and Voting Rights
Galloway, N.J. – Martha Jones, author of "Vanguard: What if Black Women Have Always Led the Movement for Voting Rights?" will present the Stockton University Distinguished Historian Lecture via Zoom at 12:30 p.m. Tuesday, March 2.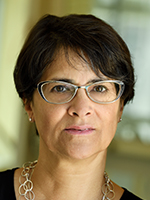 A Professor of History at Johns Hopkins University, Jones is a legal and cultural historian whose work examines how Black Americans have shaped the story of American democracy. She is the author of "Vanguard: How Black Women Broke Barriers, Won the Vote, and Insisted on Equality for All." She currently serves as President of the Berkshire Conference of Women Historians and on the Executive Board of the Organization of American Historians. She holds a Ph.D. in history from Columbia University and a J.D. from the CUNY School of Law.
This virtual webinar continues Stockton's commemorations of the centennial of the 19th amendment, and the 150th anniversary of the 15th amendment, and will highlight the obstacles faced by Black women who wanted to vote, and their vital role in the women's suffrage movement.
Attendees can register at https://tinyurl.com/BlackWomenLed. Registrants will receive a confirmation email, a reminder, and a recording following the event.