Spring 2020 Senior Art Show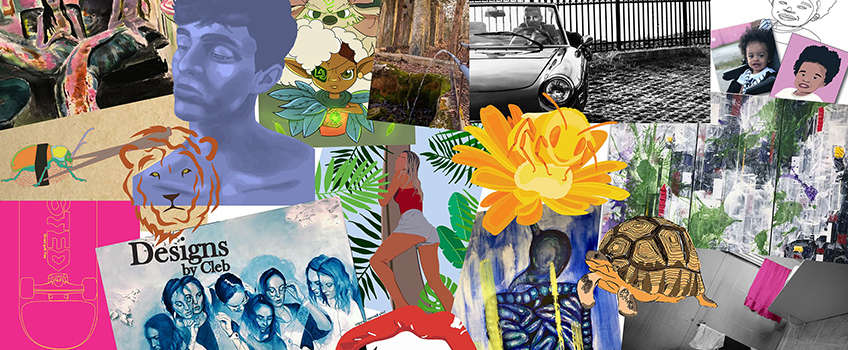 Galloway, N.J. - Last spring Stockton University's visual arts seniors, like others nationwide, had to cancel their graduation exhibition and turn to virtual displays which may be found at stockton.edu/art-gallery and bfaexhibit.com.
The seventeen students in the Visual Arts Bachelor of Fine Arts program went on to graduate. Nine of them will return this semester to exhibit their work in the L-wing art gallery from Nov. 16-20. This event is free and open to the public. Special hours for this exhibition are from 9 a.m. to 3:30p.m. Monday through Friday.
The display will reflect the students' concentration in either painting or visual communications/graphic design. The graduates are all from New Jersey. The painting students are: Mia Romeo of Ocean City, Rebecca Sokol of Ocean Grove and Amanda Bylone of Egg Harbor Township. Those who concentrated in visual communications/graphic design are Victoria Conklin of Browns Mills, Grace Emig of Brigantine, Adelina Andrews of Old Bridge, Amanda Schmidt of Jackson, Zytayia Mitchell-Wyman of Somers Point and Richard Ruiz of Williamstown.
Those graduates unable to participate are photographers Anthony Tran and Paige McColgan of Northfield and Revati Doshi of Egg Harbor Township; painter Jillian McDevitt of Marlton, visual communication graduates Alyssa Fierro of Galloway, Sally Bennett of Lebanon, Clebens Demosthenes of Somers Point and Ian Garrison of Ventnor.
Stockton University Art Galleries are located in L-wing adjacent to the Performing Arts Center on the main campus in Galloway, NJ. The nearest parking lots are six and seven. All outside visitors must register online at stockton.edu/parking.
All events in the Stockton Art Galleries are sponsored by the Visual Arts Faculty, School of Arts & Humanities, Stockton University.