Constantelos Memorial Lecture
Galloway, N.J. – His Eminence Archbishop Elpidophoros of America, Greek Orthodox Archdiocese of America, will be the guest speaker at this year's Rev. Dr. Demetrios J. Constantelos Memorial Lecture, sponsored by the Dean C. and Zoë S. Pappas Interdisciplinary Center for Hellenic Studies at Stockton University.
The event will be held at 7 p.m. on Thursday, March 5 at the Seaview Dolce Hotel, 401 S. New York Road in Galloway Township. The topic of the speech will be "The Orthodox Church in the 21st Century: Challenges and Opportunities."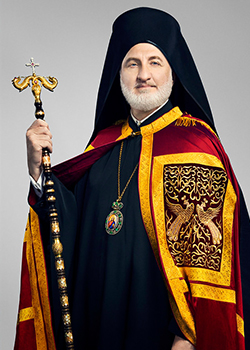 The event is free and open to the public, but reservations are requested by Feb. 26. Sponsorships are available to support the Constantelos Hellenic Collection and Reading Room Endowment at Stockton.
For more information contact Tula Christopoulos at 609 226-5827 or tula.christopoulos@stockton.edu.
His Eminence Archbishop Elpidophoros (Lambriniadis) of America, Most Honorable Exarch of the Atlantic and Pacific Oceans, was born in 1967 in Bakirköy, Istanbul. In 1991 he graduated from the Department of Pastoral Theology, Theological School of the Aristotle University of Thessaloniki.
After postgraduate studies in Germany, he was ordained a Deacon of the Ecumenical Patriarchate at the Patriarchal Cathedral in 1994 and was appointed as the Codecographer of the Holy and Sacred Synod. In 1995, he was appointed Deputy Secretary of the Holy and Sacred Synod and continued studies in Lebanon and Aristotle University of Thessaloniki where he received his Doctorate of Theology.
Promoted by the Holy and Sacred Synod to the position of Chief Secretary in 2005, he was ordained to the priesthood by the Ecumenical Patriarch in the Patriarchal Cathedral.
On March 2011, he was elected Metropolitan of Bursa and was appointed Abbot of the Holy Patriarchal and Stavropegial Monastery of the Holy Trinity on the island of Chalki. He has served as Secretary of the Pan-Orthodox Synods in Sofia and has been a member of the Faith and Order Commission of the World Council of Churches since 1996.
The lecture series commemorates the memory and legacy of Professor Demetrios J. Constantelos, Distinguished Research Scholar in Residence and the Charles Cooper Townsend Sr. Distinguished Professor of History and Religious Studies, Emeritus, at Stockton University. Constantelos was one of the founding faculty members of the college. In addition, as a Greek Orthodox priest, he served several Greek Orthodox Communities. He passed away in January 2017.
# # #
Media Contact:
Diane D'Amico
Director of News and Media Relations
Galloway, N.J. 08205
Diane.D'Amico@stockton.edu
609-652-4593
609-412-8069
stockton.edu/media