Yom HaShoah Service in Ventnor
Galloway, N.J. – The Sara and Sam Schoffer Holocaust Resource Center at Stockton University will sponsor a Yom HaShoah service at the Congregation Shirat Hayam, 700 N. Swarthmore Ave., in Ventnor, New Jersey at 7 p.m. April 30.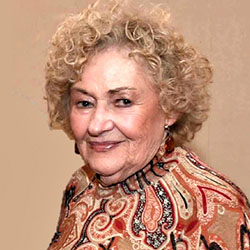 This year's service is titled "Unto Every Person There is a Name – Remembering the Six Million Jewish Victims of the Holocaust," and will highlight local Holocaust survivors and include a memorial service. Seating will be first come, first serve.
Laura Oberlender, a local Holocaust survivor residing in Atlantic City, will be the program's keynote speaker. Oberlender was six years old living in Tuchin, Poland – now the Ukraine – during the Holocaust. After the Germans occupied her town, she and her family were sent to the Tuchin Ghetto. They escaped, and were hidden by a farmer and his wife on their farm until they were freed in January 1944.
The event is free and open to the public. For more information, contact the Holocaust Resource Center at 609-652-4699.
# # #
Contact:
Diane D'Amico
Director of News and Media Relations
Stockton University
Galloway, N.J. 08205
Diane.DAmico@stockton.edu
609-652-4593
609-412-8069
stockton.edu/media