Ducktown Summer Fest
Atlantic City, N.J. – The first Ducktown Summer Fest, a monthlong celebration of food and the arts in that Atlantic City neighborhood will kick off on Friday, July 5. The festival will feature celebrity entertainment, exhibits by local artists and culinary specials from Ducktown area restaurants. Many of the events are free and family-friendly.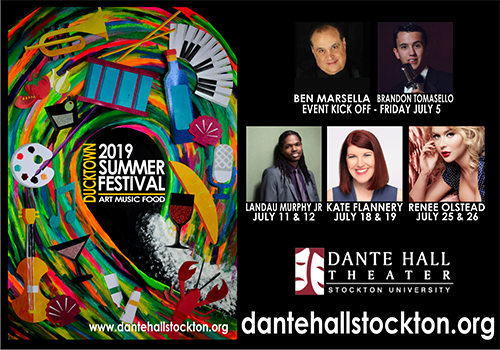 "The Summer Fest is building on the success of our annual summer music series," said Stephanie Clineman," manager of Dante Hall Theater. "We want to involve the entire neighborhood in sharing the talents and tastes of Ducktown."
The Ducktown area of Atlantic City is a historically Italian American district that stretches from Missouri Avenue to Texas Avenue. It got its name from the duck houses built along the bay where residents raised poultry and waterfowl.
The neighborhood includes Dante Hall Theater, the Noyes Arts Garage of Stockton University and well-known food establishments including Ducktown Tavern, Barbera Seafood Market, Angelo's Fairmount Tavern, Angeloni's II, Dock's Oyster House, White House Sub Shop, Formica Bros. Bakery, Pancho's Mexican Taqueria, and El Charro Restaurant & Bar. During the Fest, participating Ducktown area restaurants will offer discounts.
"The Noyes Arts Garage is happy to partner with Dante Hall on the Ducktown Summer Fest," said Emily R. Sramaty, program coordinator for the Arts Garage. "We are proud to have the opportunity to give back to the Ducktown community and provide its members with opportunities to get involved with the arts."
Events planned for the Fest are:
DANTE HALL THEATER (14 N. Mississippi Ave.) Tickets available at dantehallstockton.org. or call 609 626-3890.
July 5 at 8 p.m.: Frank Sinatra-esque stylings by singers Ben Marsella and Brandon Tomasello*
July 11 & 12 at 8 p.m.: Jazz concert by America's Got Talent season 11 winner Landau Murphy Jr*
July 18 & 19 at 8 p.m.: Performance by Kate Flannery, "Meredith" character on "The Office"*
July 20 at 7:30 p.m.: "A Night at the Improv" with Unity's Theatre Troupe
July 25 & 26 at 8 p.m.: Entertainment by Renee Olstead, recording artist, actress, and Instagram star*
*Event is produced by Dave Damiani Presents
KENNEDY PLAZA (In front of Boardwalk Hall at 2301 Boardwalk)
July 17 & 24 at 12 p.m.: "The Complete Works of Shakespeare Abridged" with the Atlantic City Theatre Company (Free)
NOYES ARTS GARAGE (2200 Fairmount Ave.) Information at artsgarageac.com. or call 609 626-3805.
July 5 from 4-6 p.m.: Open house with craft vendors, life-size games, face painting, an ice cream bar, free tours and more.
July 11 from 4-7 p.m.: Mandala Making & Tea Tasting class with artists Julie Kiss, Kat Tobin and Linda Baran. ($125/person, free parking, supplies included)
July 12 from 6-8 p.m.: "Second Friday" celebration, free opening reception with live music, refreshments and craft vendors
July 18 from 4-6 p.m.: Community Art Project: The public is invited to help create a mosaic that will be installed in Ducktown
July 19 from 5-8 p.m.: Outdoor Game Night in the Arts Alley located behind the Arts Garage. Life-size jenga, Connect Four and more. Free. All ages.
July 25 from 5-8 p.m.: Wine & Paint Night with artist Julie Kiss. ($45/person, free parking, supplies included)
July 26 from 5-6 p.m.: Free "Meet the Artist & Gallery Tour" featuring Lavett Ballard who will provide guests with a tour of her solo exhibition, Souls of Black Folk.
For more information and updates visit the 2019 Ducktown Summer Fest Facebook page.
The Summer Fest is supported by Dante Hall Theater, Noyes Arts Garage of Stockton University, Ducktown Tavern, Schultz Hill Foundation, Resorts Hotel Casino and Wonder Bar.
# # #
Contact:
Diane D'Amico
Director of News and Media Relations
Stockton University
Galloway, N.J. 08205
Diane.DAmico@stockton.edu
609-652-4593
609-412-8069
stockton.edu/media
Stockton University
Stockton University is ranked among the top public universities in the Northeast with more than 160 undergraduate and graduate programs, as well as continuing education opportunities. The University, one hour from Philadelphia and two hours from New York City, offers unique living and learning environments throughout southern New Jersey, including the 1,600 acre Galloway campus in the Pinelands National Reserve and Stockton University Atlantic City, located on the Boardwalk, just steps from the beach. Additional locations include Hammonton, Manahawkin and Woodbine. Founded in 1969, Stockton held its first classes in 1971 and is planning its 50th anniversary. Learn more about the many reasons to choose Stockton at stockton.edu.