Stockton Women's Leadership Scholar Program
Stockton Women's Leadership Council (SWLC) is committed to taking an active leadership role that will have a sustainable impact on Stockton University, Stockton students, alumnae and members of the community. To support the mission, council members will provide their time and talent through mentoring. Mentoring will provide mentees with guidance, instruction and personal and career development.
To achieve success the mentoring program will align with the following areas:
Education Support – Help to bridge the gap between theory and practice. Formal education and training are complemented by the knowledge and hands-on experience of a mentor.
Career Development – Help students plan and develop their careers. Mentoring will help students with self-confidence and to be self-reliant in their careers.
Skills Enhancement – Share skills and knowledge learned from successful and experienced professionals to pass on their expertise and help the mentee acquire specified skills.
Professional Identity – Contribute to the understanding of what it means to be a professional in the working environment.
Leadership Development – Encourage the development of leadership, gained through application and guided practice.
Student Retention – Provide a supportive environment. Ongoing coaching and teaching will enhance the education experience and assist in graduation completion.
Scholar Program Applications
Applications for the Stockton Women's Leadership Scholar Program will be accepted each spring academic semester.
---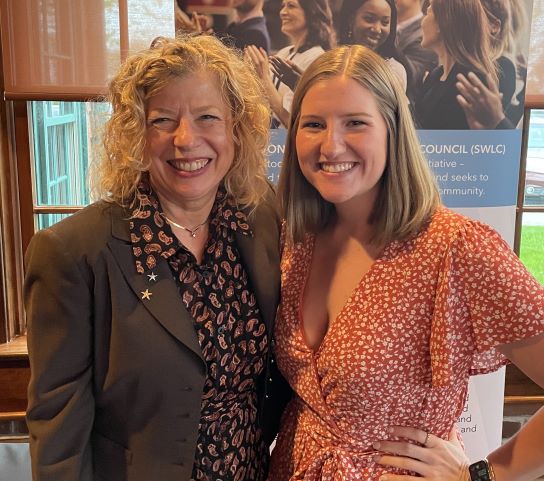 Marilouise Venditti, AtlantiCare & Alexandria Parks '22
" The Stockton's Women's Leadership Scholar Program has provided me with a wonderful mentor experience. My mentor helped encourage and guide me through the daunting journey of preparing to apply to medical school. She connected me to a network of resources and other professionals in the field of medicine during our time together, allowing me to expand my knowledge as well as build other professional relationships. I have seen major growth in my confidence and leadership due to my time in the SWLC and know it will benefit me in my future career. I am leaving the program ready to take on my next stage of life knowing I have a support system of women I can count on." - Alexandria Parks '22
"I transferred to Stockton University my junior year and was very excited to join the Stockton Women's Leadership Council Scholar Program. The SWLC introduced me to a network of my peers, built my confidence and improved my networking skills, which has been beneficial during social gatherings. My mentor was always accessible and I could lean on her when I needed help. I am thankful for the opportunity and grateful for the people I have met during my time with the SWLC."

- Nina Fatima Argayoso '23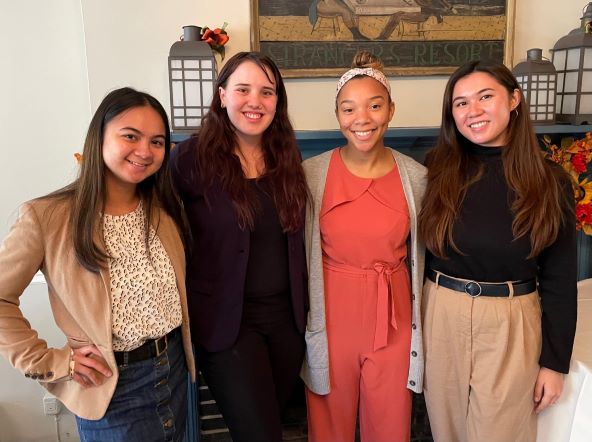 Nina Fatima Argayoso '23, Austin Reid '22, Tamara Farrow '23, Julyanna Deauna '23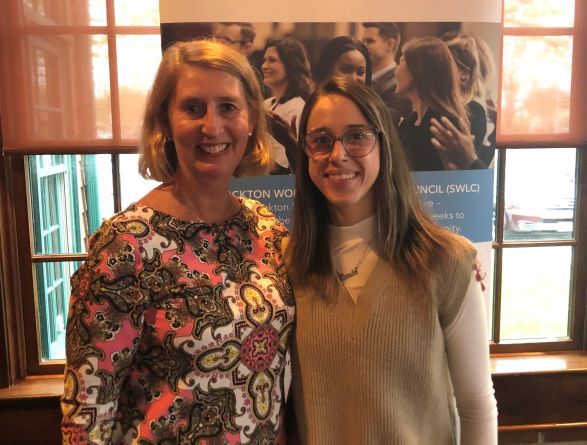 Lori Herndon '92, AtlantiCare & Lexi Urbanek '22
"My mentor Lori has been a great role model and constant support system. She has gone above and beyond to understand my goals and provide me with the support needed to achieve my dreams. I have learned that communication and networking are keys to success as well as the importance 'to fill up your tank' and take care of yourself just as much as taking care of all your other tasks. My mentor is an inspiration in leadership and the SWLC program is amazing to help other women also achieve their dreams and take initiative to become leaders in the community." - Lexi Urbanek '22