Multicultural Center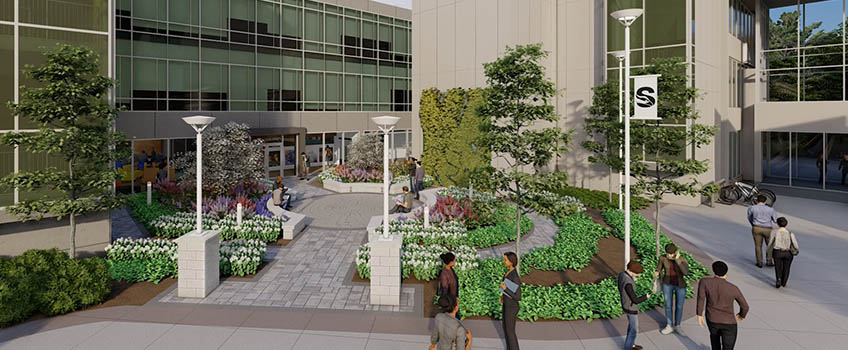 The desire to create a Multicultural Center at Stockton became a reality following the expansion of the Academic Quad. In Fall 2020, a committee of staff, faculty, and students came together to conceptualize and bring a center to life.
After evaluating potential sites, the committee voted to locate the Multicultural Center in lower F-Wing 000.
The Center will:
Provide a sense of belonging and support for students from historically underrepresented communities.
Enhance social justice education and leadership development opportunities for all students
Inspire scholarship and research-based best practices to support inclusive student success; and
Engage campus and community partners to create a dynamic inclusive learning environment at the University.
The Multicultural Center will report to the Division of Student Affairs under the leadership of the Dean of Students.
---
Description
The approximately 4,100-square-foot center will serve as a learning and social space for students and guests. There will be three primary components: the entryway will allow for small receptions and a gallery-like function; the "living room" will serve as a learning and social space for students and guests and includes a kitchenette; and the large multipurpose space with a drop-down projector screen will host viewings, small-scale performances, speakers, and more. That area will also have modular furniture to reconfigure or remove for various set-ups. There will also be ample storage space and office space for anticipated staff. The center will extend outside to a landscaped courtyard, which will also serve as part of the center's reservable programming space.
Presented as one of two options vetted by Facilities & Operations, OCA Architects was almost unanimously selected to bring the center to fruition with Stockton's design team. After multiple meetings with the committee, OCA Architects presented a final mock-up that was approved by the Board of Trustees in July 2021. The project will be executed by Yezzi Associates.
Chris Catching - Vice President for Student Affairs
Don Hudson - Vice President, Facilities & Operations
Ashlee Roberts - Executive Director of Student Affairs Planning and Operations
Donnetrice Allison - Professor and Coordinator of Africana Studies, Communication Studies, and Director of Strategic Initiatives
Rhianon Lepree - Director of Real Estate
Nordia Johnson - Director of Academic Achievement Programs
Marques Johnson - Director for Residential Life Education and Student Services
Valerie Hayes - Chief Office for Diversity and Inclusion
Arnaldo Cordero-Roman - Professor of Spanish; President, Unidos
Merydawilda Colon - Executive Director of the Stockton Center for Community Engagement and Service-Learning; Professor of Social Work
Luz Allen - Assistant Director of Counseling Services
Shedia Laguer - Assistant Director, Student Development
Ana Edmondson - Director, Student Transition Programs
Haley Baum, Dean of Students
Walter Tarver, Assistant Vice President for Student Transitions, Access & Retention
Beverly Vaughn - Professor of Music
Josh Hunte - Student Senator, Diversity & Inclusion Chairperson
Dianne Stalling - Assistant Director, Student Development
Kiara Velez-Padilla - President, Los Latinos Unidos (2019-2020)
Jessica Grullon - Associate Director of Admissions Services; Vice President of Unidos
Danielle Combs - President, NAACP (2019-2020)
Brian Jackson - Chief Operating Office, Atlantic City Campus
Mark Ciccotelli - Project Manager, Facilities Planning & Construction
Charles "Skip" West - Executive Director, Facilities Planning & Construction
Marcie Pallante - Assistant to the Executive Director, Facilities Planning & Construction
JY Zhou - Director & Senior International Office, Office of Global Engagement
Cynthia "Cindy" Gove - Project Manager, Interior & Facilities Management
Support the Multicultural Center
Your gift to the Multicultural Center will support expanded opportunities for the programming and operations. This donation is a restricted gift and will only be used as outlined.