Jesus Causing - Choose Stockton
Jesus Causing
Class of 2024
Why did you choose Stockton?
I chose Stockton because I decided to better myself through finishing my degree and pursuing professional connections that Stockton has to offer in the event planning and tourism industry.
How did you choose your major?
I graduated from Middlesex County College with a degree that transferred and lined up perfectly with the Marketing program here at Stockton.
What have you gotten out of your academic program so far?
My prior experience in esports allowed me to assist Demetrios Roubos in developing the esports program here at Stockton and over the summer we've completely changed how the club functions for the better thanks to the new Esports Management degree starting in Fall 2023!
What other opportunities have you had at Stockton?
Stockton has been a portal to diverse experiences, facilitating my participation in esports tournaments and resume building panels during a trip to Texas. These opportunities have honed my skills in program management and personal development. I've also been able to explore my creative side with writing and music projects I put down many years ago thanks to the general education courses.
How is Stockton preparing you for the next stage of your life?
Stockton has been a transformational journey, equipping me with the skills to become a leader who is not only approachable and communicative but also decisive. My experiences here have been nothing short of spectacular, and I eagerly anticipate the multitude of opportunities that will unfold in my senior year.
What are your career goals?
My goal is to find a career that allowed me to help people figure out how they can be the best person possible in a professional setting while also allowing them to be creative and innovative. What career that is I'm not entirely sure!
What advice do you have for students thinking about attending Stockton?
Give it all you've got. Don't let opportunities pass you by because of your fear. I thought I was going to lay low and finish my degree as fast as possible but instead, I've become an integral part of Stockton's growing esports community. College is about getting the experience now, so you're prepared later. Just make sure you can handle it and be sure to ask for help when you can't!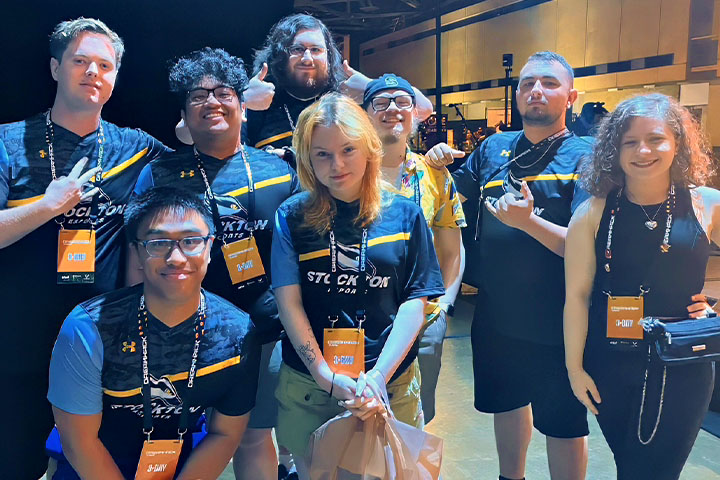 ---