Nuestro Pueblo Awards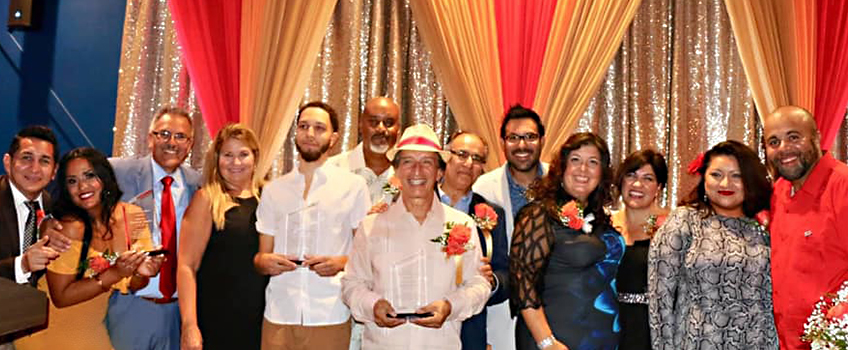 Captioned: 2019 Nuestro Pueblo Awards honorees with HAAC and Unidos Executive Board Members.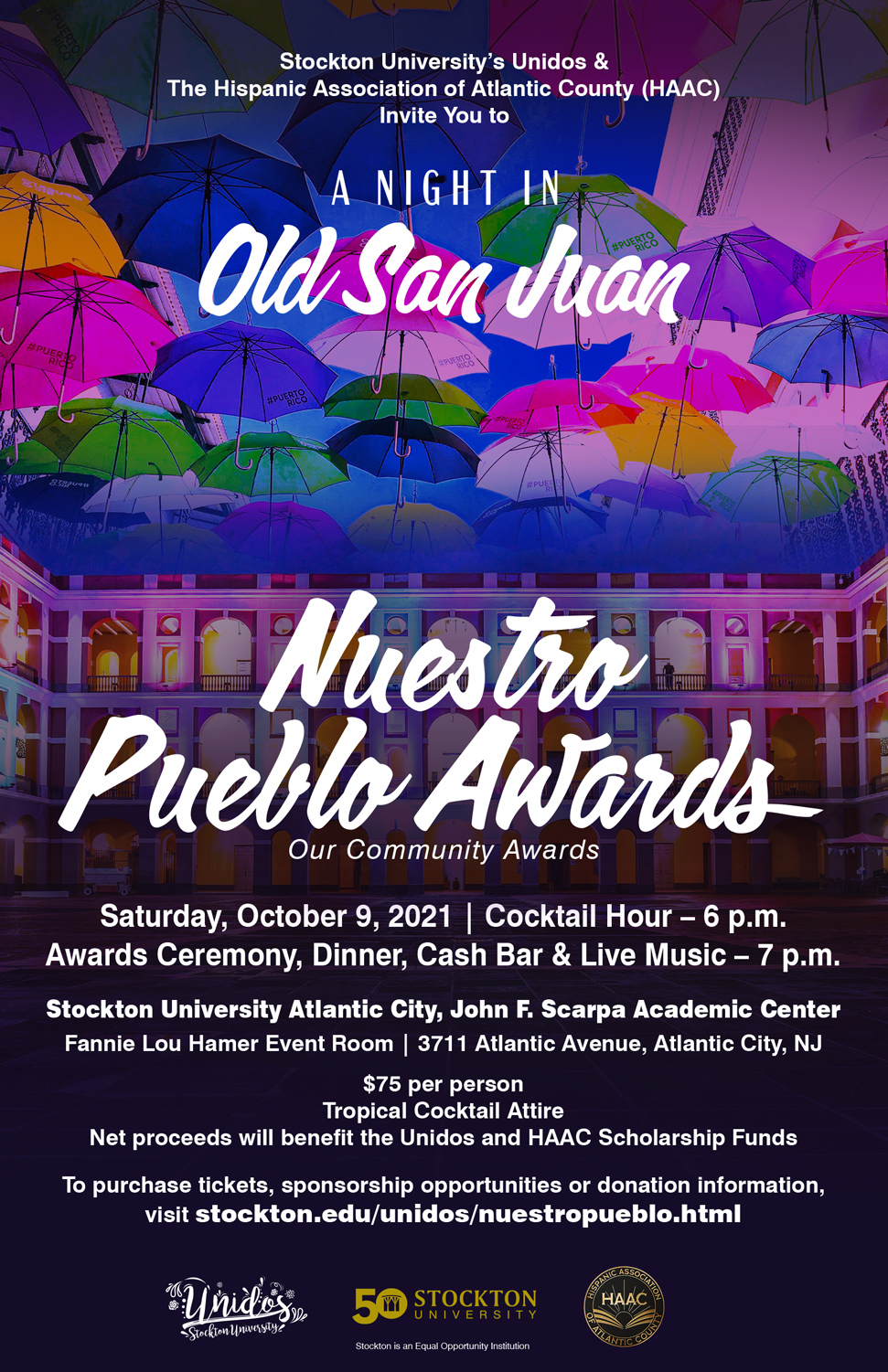 2021 Nuestro Pueblo Awards - A Night in Old San Juan!
Saturday, October 9, 2021
6:00 PM - 11:00 PM
Stockton University Atlantic City, John F. Scarpa Academic Center
Fannie Lou Hamer Event Room | 3711 Atlantic Avenue, Atlantic City, NJ
Please RSVP by September 25, 2021.
Tickets are $75 per person. Tropical Cocktail Attire. Ticket includes two drink tickets, hors d'oeuvres, and dance! Net proceeds will benefit the Unidos and HAAC scholarship funds.
Corporate sponsorship opportunities and advertisements for the program book are available!
---
To view the 2019 Nuestro Pueblo Award honorees, click here.
For questions, please contact unidos@stockton.edu.
Mission
The Mission of the Nuestro Pueblo Awards celebration is to promote community involvement and advancement of our Hispanic cultural heritage by recognizing individuals and/or organizations that are making a difference in "Nuestro Pueblo" (our community).
Sponsorship Information
As two organizations who depend 100% on the contributions of our paid memberships, local businesses and organizations, we hope you will ensure this event is truly memorable for our Latino/a community by becoming a sponsor. We would greatly appreciate your generous support in the form of ticket purchases, sponsorships and the donation of goods and/or services. .The deadline for your contribution and to place an ad in the program book is Friday, September 24, 2021. To donate, please click here.
---
2021 NUESTRO PUEBLO AWARDS HONOREES
Arts and Entertainment – Mr. Mike Lopez, AC Mike Show
Community Service– Mr. Luis Rodriguez, La Casa Dominicana
Education– Mrs. Yasnaya Lorick, Sovereign Ave School
Entrepreneurship – Mr. Elvis Cadavid, Vagabond Kitchen & Tap House
Future Leader – Ms. Jetzaly Medina, Stockton University Engelberg Scholar
Healthcare – Ms. Jenny Hernandez- ALMA Atlanticare
Nuestro "Amigo/a" – Mr. David Vinokurov, South Jersey Gas
Organizational "Amigo/a" – Atlantic Cape Community College Public Service
Public Service – Lieutenant Wilber Santiago, ACPD
STEM – Mr. Kirby Ortiz, Stockton University Information Technology Services
Read the 2021 Nuestro Pueblo Awards Biographies
---
2023 NUESTRO PUEBLO SPONSORS
---
Nomination Criteria
1. Nominee(s) do not have to be Unidos or HAAC members to be eligible. Board members are not eligible for nominations.
2. Within each category, nominees must have evidenced demonstrable involvement and service to the Hispanic community
3. Nominee(s) for the Future Leader award must be in High School or has recently graduated, be of Hispanic heritage and has demonstrated excellence both in and outside of the classroom and in his/her community.
4. Nominee(s) agree to allow Stockton University's Unidos and HAAC the right to use their award winning status publicly on public and private media platforms including their photograph and biography.
5. Nominee(s) agree to be present at the Nuestro Pueblo Awards event in order to receive their Award.
---


FAQ