Student Surveys
The Division of Student Affairs is actively involved in a regular effort to obtain feedback from our students in a variety of meaningful ways. Among these efforts are satisfaction surveys, assessment of learning outcomes, reflections on student experiences and more.
Understanding the needs, thoughts and preferences of Stockton students helps us to improve the programming and the services that we provide. Below, please read about currently administered surveys. We appreciate your support.
---
NOVEMBER 2020
National Assessment of Collegiate Campus Climates (NACCC)
The NACCC survey is based on more than a decade of the USC Race and Equity Center's qualitative climate studies at colleges and universities across the country and centers on undergraduates' experiences. In addition, a 14-member content team comprising race, equity, and inclusion experts from across the United States convened to identify the most salient survey content areas and questions today in the field of campus racial climate.
The survey was administered to undergraduate students at Stockton from November 3-30, and extended through December 7 for students with partial surveys to complete it. A total of 604 students completed the survey.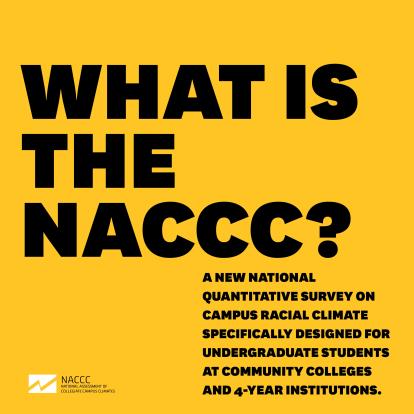 Timeline
November 2-30: Survey issued to undergraduate students
December: Gift card winners contacted
April/May: Results and recommendations received from USC's Race and Equity Center
August: Benchmarking
MARCH 2021
Health Minds Study
"The Healthy Minds Study provides a detailed picture of mental health and related issues in college student populations. Schools typically use their data for some combination of the following purposes: to identify needs and priorities; benchmark against peer institutions; evaluate programs and policies; plan for services and programs; and advocate for resources" (Healthy Minds Study, n.d.). For Stockton, the results will be a key component for Implementation Goal 1 of the Inclusive Student Success focus area of Stockton's Strategic Plan 2025.
The standard modules are 1) demographics, 2) mental health status, and 3) mental health service utilization/help-seeking. Of the 14 options for the four elective modules, the committee selected 1) overall health, 2) resilience and coping, 3) financial stress, and 4) knowledge and attitudes about mental health and mental health services. It will be issued to all students with the elective modules being split between the population. Half received "overall health" (longer) & "knowledge and attitudes about mental health and mental health services" (shorter) and the other half received "resilience and coping" (longer) and "financial stress" (shorter). Additionally, we participated in the sub-studies for student athletes and COVID-19 (all students).
The survey was administered to undergraduate and graduate students at Stockton March 1-26. A total of 1590 students completed the survey.
Timeline
March 1-26: Survey issued to all undergraduate and graduate students
May: Gift card winners contacted
August: Official Report received from the Healthy Minds Study