Student Surveys
The Division of Student Affairs is actively involved in a regular effort to obtain feedback from our students in a variety of meaningful ways. Among these efforts are satisfaction surveys, assessment of learning outcomes, reflections on student experiences and more.
Understanding the needs, thoughts and preferences of Stockton students helps us to improve the programming and the services that we provide. Below, please read about currently administered surveys. We appreciate your support.
---
NOVEMBER 2020
National Assessment of Collegiate Campus Climates (NACCC)
The NACCC survey is based on more than a decade of the USC Race and Equity Center's qualitative climate studies at colleges and universities across the country and centers on undergraduates' experiences. In addition, a 14-member content team comprising race, equity, and inclusion experts from across the United States convened to identify the most salient survey content areas and questions today in the field of campus racial climate.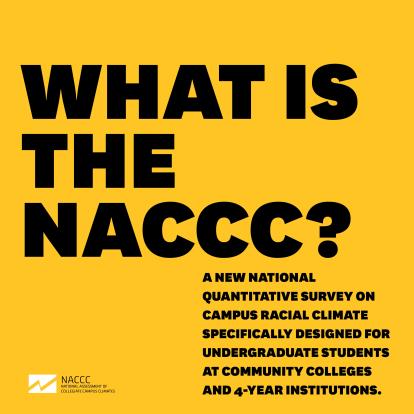 Timeline
November 2-30: Survey issued to undergraduate students
December: Gift card winners contacted
April/May: Results and recommendations received from USC's Race and Equity Center