The Science of Taste
The Science of Taste
Meet the alumna behind those crazy soda flavors.
By Mark Melhorn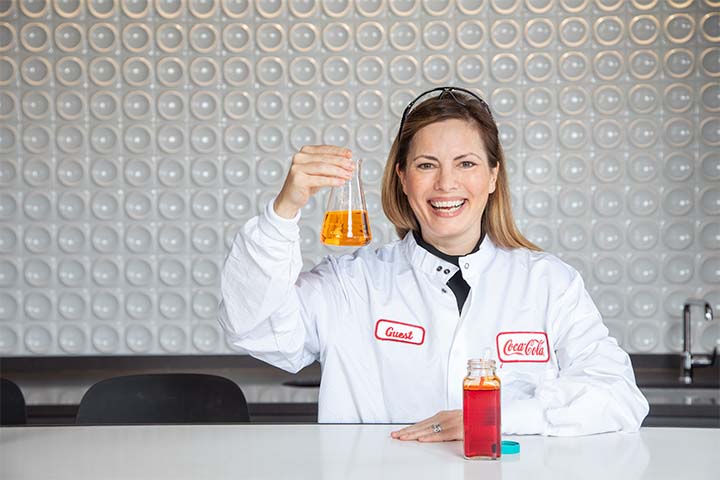 I f you've ever wondered how to get a potato chip to taste like a Philly cheesesteak, Cathianne Leonardi may have the answer.
The 1994 Stockton University alumna has spent the last 20 years as a flavorist — creating tastes for everything from soda and cereal to chewing gum and chocolate.
"My job is to interpret what people connect with in terms of taste in a manner where it can be repeated again and again around the world," said the Bergen County native who now lives in Georgia working for the Coca-Cola Company.
Leonardi uses her bachelor's degree in biology to break down natural products to the molecule to understand what makes something taste and smell. She then combines those molecules through chemistry to create new flavors.
"For example, everyone has a cheesecake recipe, and everybody's recipe, to them, is the best one. That's why you make it time and time again," she said. "I'm really looking to learn what is the 'sweetest spot' of those characteristics and find a commonality.
"It's a lot of trial and error. A lot of what pleases me may not please everyone else."
Leonardi said to fully understand taste, you must also pay attention to the connection people have with food and the culture it comes from.
For example, when researching how to create a mango or passion fruit flavor for a Latin American market, she insists on talking to those who live where the fruit is grown.
"People in tropical areas have a different connection to the fruit they grew up with. They've tasted it throughout its lifecycle — when it was ripe, unripe — and they know which one they like," she said. "But a person like me only knows the grocery store version. We don't know what it smells like when it's just ripe."
She said she's amazed how people may know what foods or tastes they like but not know why they like them.
"Our whole lives we've been eating, but how many people have asked themselves the question and done the work to understand why they like it?" she said. "I know exactly what I like, and I know why."
I didn't know it then, but ultimately that would help match my love of sciences with my love of cooking and food."
How did she become a part of this peculiar profession?
It's the marrying of two major loves — science and food — and she made a lot of connections between the two while at Stockton.
Her first impression of campus when she visited in high school was that it was too small. But she was blown away by the presentation of several science professors — including physicist Yitzhak Sharon.
"The faculty was outstanding at the time. You just saw the level of talent in these professors, and I walked out thinking, 'Well, there's nowhere else I'm going to go,'" she said.
It also helped that she could play volleyball for coach Sue Newcomb, which she did for all four years, including the 1993 team that finished 26-11 and a perfect 6-0 in the New Jersey Athletic Conference.
Another professor that left an indelible impression was Roger Wood. Leonardi remembered one class when Wood taught about Charles Darwin. He tried to put students in Darwin's shoes by taking the class into the woods surrounding the Galloway campus and "purposely got us lost."
"To where I looked around, and nobody was here, and I didn't know how to get out of here," she said. "But that's exactly what he was trying to do was give us a sense of exploration. I eventually found a path back and got connected with my fellow students. We all got lost, that was the point. He wanted us to have this disorienting feeling."
Leonardi also fondly remembers living in the campus apartments and gathering with other students to host a Thanksgiving meal before going home.
"Each apartment would make something different. We had it all laid out, and it was like our Thanksgiving, and it was lovely," she said. "I didn't know it then, but ultimately that would help match my love of sciences with my love of cooking and food."
When Leonardi thinks about her time at Stockton, it's "those magical moments that are a bit unexpected" that have stuck with her. And she recognizes that memorable moments of connection with friends and food create a range of emotions that contribute to how we taste something.
"And that's what we are doing as flavorists, we are making memories when we are creating tastes, whether it's in our kitchen around a dining table or what I do in a lab," Leonardi said.
But no matter what concoction she comes up with for a new energy drink or type of chocolate, above all, it still must taste good.
"I have a saying: It might be nutritious for you, but if you don't love the taste of it and you aren't eating it, it's not nutrition," she said. "You have to like it."
Learn more about the Biology program