For the Love of Stockton: A Family Affair
For the Love of Stockton: A Family Affair
Three Jenkins women find their fit at Stockton.
By Eliza Hunt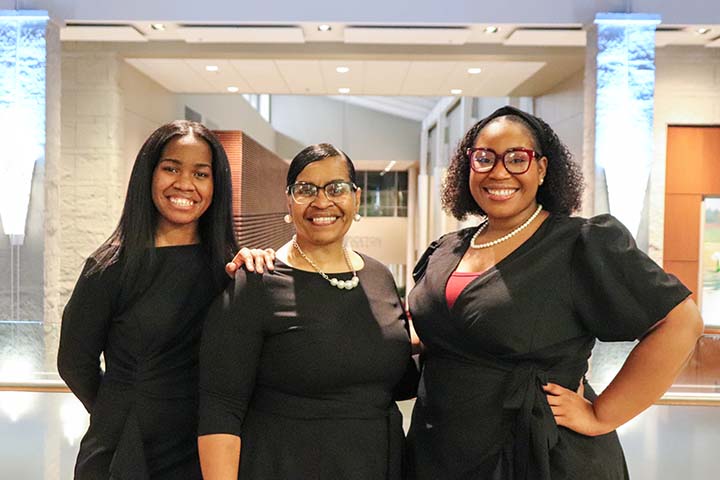 W hen students walk around campus, rarely do the words "Hi, mom!" excite them.
But for junior Beatrice Jenkins, hearing these words ring through the halls from her daughters, senior Alicia Jenkins and Director of Stockton's Goals Gear Up program Alexis Jenkins, is a reprieve from the normal hustle and bustle of college.
"It is so nice to be in this environment here with my family," said Beatrice, an Elementary Education major from Galloway. She has worked in the Galloway Township School District for the last 19 years, 17 of which were spent in the food service department.
Then, a couple of years ago, Alicia and Alexis pushed their mom to pursue her degree.
In May 2020, Beatrice graduated with her associate degree from Atlantic Cape Community College.
"I started not to go any further than my associate's," Beatrice recalled. "But my daughters said, 'Mom, it's only two more years. You're almost there, so do it.'"
While working full time, taking care of a family and going to school full time is a lot to take on, Stockton was an ideal fit for Beatrice. It was close to home, she could keep working and Alicia was a junior at Stockton, so she'd see her daughter around campus as well.
"I am so glad I decided to do it and forge forward," Beatrice said. "It's really taken a lot of determination to get it done. But a lot of encouragement from my girls has helped me as well."
Currently, Beatrice works as a teacher's assistant for a seventh-grade special education class. On campus, she is a student worker in the Office of Student Transition Programs, where she helps create programming and outreach to support non-traditional students.
When she graduates with her bachelor's degree in May 2024, she hopes to take over her own classroom, teaching sixth or seventh grade.
"My girls have been there the whole time," Beatrice said. "They're really inspirational to me."
By the time Beatrice arrived on campus in the fall of 2021, Alicia was already well-known and highly involved..
The Mathematics major with a concentration in Education and double minors in Africana Studies and Childhood Studies has served as a Resident Assistant, math and writing tutor, student senator, EOF summer academy tutor, the Public Relations Coordinator for Urban Light and is also a winner of The Miss Black and Gold pageant.
In Spring 2022, as part of her Board of Trustees fellowship, Alicia coordinated the Osprey Excellence Experience with the aim of uniting students of color as leaders on campus. She recruited 30 students to help facilitate the project and inspired others to do the same.
I don't think I would rather be at any other place than here with my family,"
This school year, she is working on a Compass Fund project called the First to Fly leadership symposium. This project aims to reinforce first-generation student success for rising high school sophomores, juniors and seniors, as well as families in neighboring communities.
"Sometimes they say the parents pave the way for the kids," Beatrice said. "But I can say, in my case, my kids have paved the way for me. All I have to do is say, 'I'm Alicia's Mom' or 'I'm Alexis' Mom,' and I'm in."
While Alicia leaves her mark on Stockton and gets ready to graduate in May, her older sister Alexis' journey is just beginning.
"I don't think I would rather be at any other place than here with my family," Alexis said.
In Fall 2022, Alexis was hired as the new director of Stockton's Goals Gear Up program, which helps prepare students in grades seven through 12 and first-year enrolled college students at Atlantic City and Pleasantville Public School Districts for college.
Aside from her passion for helping prepare high school students for college, having her family at Stockton was a big factor for her. "This is a family here at Stockton," Alexis explained. "I knew I was missing a piece of me because my sister and my mom were here. Everybody would be talking about Stockton when they got home, and I wasn't there. But I wanted to be. I wanted to be in the conversation, too."
Now, the three Jenkins women enjoy running into each other in the hallways, visiting each other's offices on the Galloway and Atlantic City campuses and attending events together as a family.
"I truly love my family and I'm very grateful that we have the opportunity that most people don't ever have: to say that my sibling and my mom go here, and we're all getting an education in some capacity," Alexis added.
While the three Jenkins women started out on their own separate journeys, love has brought them all to Stockton, where they've carved out their place and found a family bigger than themselves.
"I've found that I made a family with other students," Beatrice said. "The people are great. I couldn't have asked for a better school environment to be in. And getting to meet the president of the University and the directors of department. I mean, things like that you don't get to do at most universities. I'm loving it."
Learn more about the Board of Trustees Fellowship Program