She Chose Stockton
She Chose Stockton
Damaris-Anne Spring's first term.
By Loukaia Taylor '22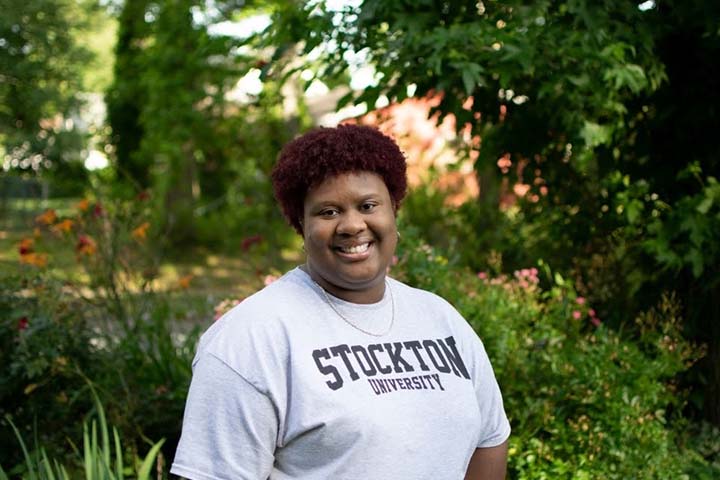 T he first thing that came to mind when my editor told me about a student who received over twenty acceptance letters and about $2 million in scholarships, ultimately choosing Stockton University as her nest for the next four years, was the word, "why?"
This inquisition was, by no means, a dig on Stockton. Rather, it's an honest question: out of all of the colleges and universities in New Jersey that are at your fingertips, why choose Stockton?
According to Damaris-Anne Spring, but you can just call her Damaris, the answer has nothing to do with the money and everything to do with the interactive nature of the Sociology & Anthropology program here. Her friends who were in the program told her about the courses they were taking, and this helped Spring make her final decision.
"They were telling me all about these courses and how they weren't just by the book," Spring said. "They said classes were more discussion-based and places to bounce ideas off of each other. I really liked that because other schools that I looked at had more textbook work, tests and projects without discussing each other's opinions or how they think and work."
This only demonstrates how important having support from a community is to Spring: prior to Stockton, she was a Sports Medicine student at Burlington County Institute of Technology (BCIT), involved in multiple clubs with a wide range of hobbies – including mastering the violin and participating in sports like track & field and shot put – and hopes to continue that throughout her college career.
She's already involved in the Sociology & Anthropology Club (SOAN) and the Unified Black Student Society (UBSS), both of which she adores.
I know that a lot of times, people of color are overlooked [in health care], especially women. I want to be that person that can speak for and advocate for them."
"I love [SOAN]; it's amazing," Spring said, beaming. "I'm also involved with UBSS. I love going to their meetings and being there because I love being surrounded by my people, you know? This school is incredibly diverse, and I love that, but it still is a PWI [predominately white institution], so I like being able to go to an area where I would be surrounded by people in the same or similar situation as me. Both of those clubs are my favorites."
This experience hasn't been the easiest for Spring: she was admittedly very homesick at one point and had to deal with that on top of getting acclimated to campus, finding a job on campus, and transitioning to fully in-person learning.
However, she's finding her rhythm – she now works as a student worker for Stockton's Center for Community Engagement & Service-Learning and has a schedule that allows her to take classes at her own pace and squeeze in time to be with her support system: her family, especially her mother, Michelle-Anne Spring, and her BCIT guidance counselor, Marykate Sabbatino.
"My mom, she's my ride or die," Spring said. "She's been there for me on my worst days and my best days – she'll drop work to drive me to my doctor's appointments even if they're an hour away. And I have so much love for my guidance counselor: she was the one who advocated for me in school when it came to problems with my health. I just really appreciate everything she did for me over the last four years. We're still in contact, and she has continued to help me."
The future looks brighter every day as Spring gets closer to completing her degree. She's currently aiming to become a medical malpractice attorney to advocate for patients of color. Her personal experiences with various doctors and nurses due to a serious accident in high school that resulted in a concussion have shown her how important it is to have someone in your corner during difficult times.
"I know that a lot of times, people of color are overlooked [in health care], especially women," Spring explained. "I want to be that person that can speak for and advocate for them. I obviously (as an attorney) won't be there to step in during the incidents, but I'll be able to come in after the fact and hold medical professionals accountable for them."
By this time in 2026, Spring hopes to continue being a busy bee with internships and preparing for law school by getting her portfolio ready. She knows that that time in her life will be 'hectic,' but she's looking forward to that.
"I'm the type of person that can't just do nothing," Spring said. "Doing nothing makes me feel anxious in a way, so I like being controllably busy."