Developing Leaders in Health & Science
Developing Leaders in Health & Science
Stockton introduces two new graduate programs.
By Eliza Hunt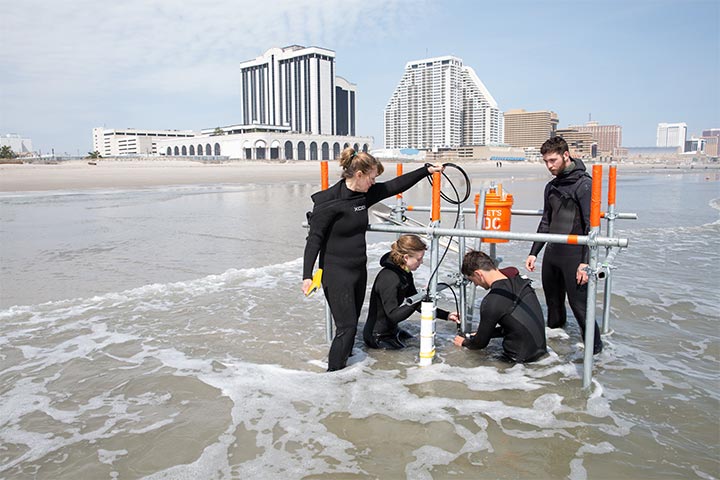 Stockton University will offer two new interdisciplinary graduate programs that blend science with business starting this fall. The programs are designed to enhance the skills of working professionals in the health care and environmental fields.
MBA in Healthcare Administration & Leadership (MBA-HAL)
The new Master of Business Administration in Healthcare Administration and Leadership will provide graduates with the expertise to excel in a variety of health care-focused businesses such as hospitals, medical practices, pharmaceutical companies, insurance companies, medical device companies, digital health and entrepreneurship.
This executive-style, weekend MBA program will accommodate the schedules of working health care practitioners, consisting of monthly Saturday meetings and online hybrid courses to supplement in-person gatherings. Stemming from the current MBA program, this is the first specialized MBA developed by Stockton's School of Business.
In fact, this program is not only unique to Stockton, but the first of its kind in southern New Jersey. "We truly believe this program will aid in improving the administration of health care in our region," said Keith Diener, the MBA-HAL coordinator at Stockton.
Both the Master of Business Administration in Healthcare Administration and Leadership and the Coastal Zone Management programs took several years to research and develop before gaining statewide approval from the New Jersey Presidents' Council.
Coastal Zone Management
A committee of Stockton faculty from the Marine Science, Environmental Science and Biology programs, in addition to the Stockton Coastal Research Center, worked to develop the new Coastal Zone Management programs.
This program will prepare coastal managers and scientists who provide expertise to governmental and non-governmental organizations and businesses with interests in the coastal zone. Courses will train working professionals in the science-based management of complex problems in the coastal zone such as climate change, sea level rise, coastal ocean and shore protection. Degree options include a graduate certificate, Professional Science Master's and research Master of Science.
"These new programs recognize the strength of Stockton's Marine and Environmental Science programs and the Stockton Coastal Research Center in providing education and research in the coastal zone," said Peter Straub, dean of Stockton's School of Natural Sciences and Mathematics.
Both the CZMT-PSM and CZMT-MS degrees build on Stockton's successful Environmental Science program, specifically the Professional Science Master's, sharing professional core courses and electives. The CZMT-PSM is similarly designed to train practitioner scientists, with a greater focus on the shoreline and ocean. The new programs enable students to tackle environmental issues on a higher level than before, enhancing the opportunities available for graduate training in the southern New Jersey region.
"These programs, although mostly science courses, blend in business courses to benefit professionals who need to know and understand the business side of being a leader in the environmental and coastal zone fields," said Stockton's Associate Director of Graduate Programs Tara Williams.
Enrollment is open for the Master of Business Administration in Healthcare Administration and Leadership and the Coastal Zone Management programs. Find out more from the Office of Graduate Studies.