Out of this World Experience
Out of this World Experience
Students send research to outer space.
By Susan Allen '09, '14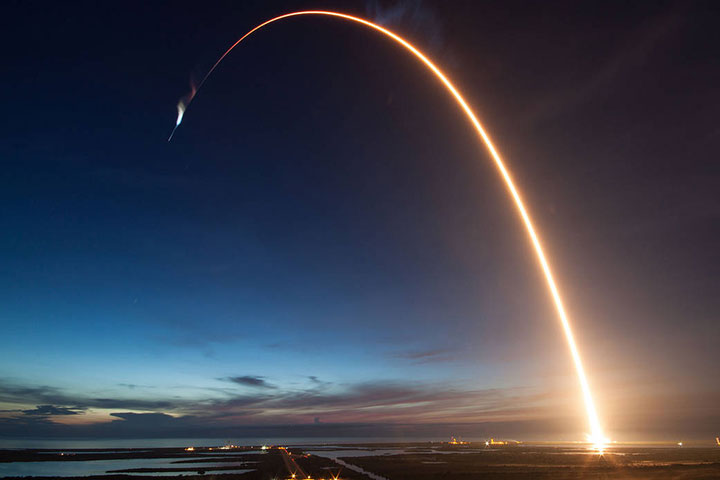 In Case You Missed It:
In June, a Stockton University science experiment was launched to the International Space Station (ISS) aboard the SpaceX Falcon 9, in search of answers that could enhance medicine for patients.
Drug delivery vehicles for controlled release anti-cancer drugs and insulin cannot self-assemble with uniform shape on Earth, but there's a chance they can in outer space.
Christina Tallone, a sophomore Physician Assistant Studies major from Hamilton, N.J., and Daniel Schneider, a freshman Pre-Medicine major from Tabernacle, N.J., worked with faculty mentor Pamela Cohn, assistant professor of Chemistry, to design an experiment contained within small fluid mixing enclosures. Chioma Uka, a biochemistry major with a minor in Global Studies from Kenilworth, N.J., helped the team assemble and prepare the experiment for launch.
---
& Now:
At the end of the summer, the experiment returned from the International Space Station (ISS) and is now undergoing analysis.
The experiment was designed for Mission 12 of the Student Spaceflight Experiments Program (SSEP) through the National Center for Earth and Space Science Education. This program takes experiments designed by students (grades 5 -16) to the ISS for experimentation in a microgravity environment.
The experiment was contained within a small fluid mixing enclosure and consisted of indigo dye used to simulate a drug and was mixed with a combination of molecules that self-assemble into a drug carrier.
Now that the experiment samples have returned from space, "we are confirming what we think we see," said Cohn. The analytical techniques they are conducting all help to create "a picture of what the drug delivery system looks like and how it behaves," she added.
This fall, Schneider, Tallone and Uka prepared slides that can be viewed under a confocal microscope, which will allow them to create a three-dimensional structure out of two-dimensional images captured at varying depths of the sample. They used images to re-create the drug capsule structure.