'Growing Industry'
'Growing Industry'
Stockton offers minor in Cannabis Studies.
By Diane D'Amico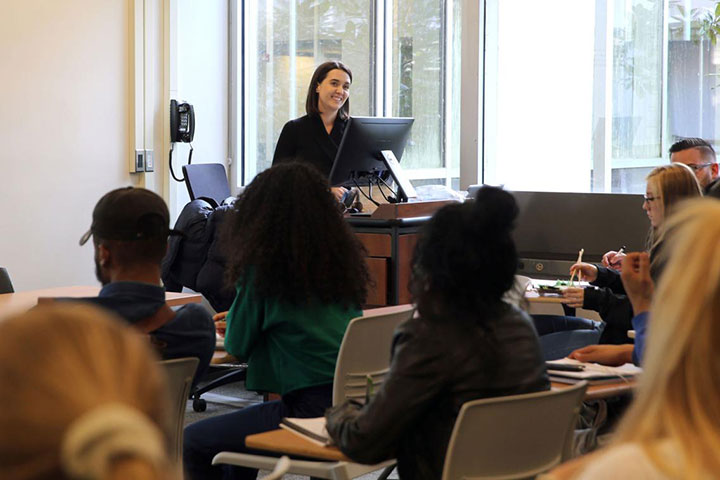 In Case You Missed It:
This fall, Stockton added a new minor in Cannabis Studies that addresses issues surrounding the use of medical marijuana in New Jersey and the proposed legalization of recreational marijuana.
The new minor addresses Stockton's mission to prepare students for the complexities of the world in which they will live and work and the issues that are shaping the future of New Jersey and the nation.
"This is a growing industry and we want to prepare our students from a variety of academic viewpoints," said Associate Professor of Biology Ekaterina Sedia, program coordinator for the Cannabis Studies minor program.
"This is a growing industry and we want to prepare our students from a variety of academic viewpoints."

Topics in the Cannabis Studies minor will include such issues as the legal, social justice, health, financial and economic implications of legalized marijuana for both medical and recreational use. Students will study the history of marijuana legislation, and what business opportunities have developed or could develop in the future. Social justice issues will look at how legalization can both benefit and hurt residents.
---
& Now:
The Cannabis Law class was taught in the fall and Introduction to Medical Marijuana will be offered in the spring. Program coordinator Ekaterina Sedia, associate professor of Biology, said 15 students have formally registered for the minor, though more are taking the classes. The majors of participating students vary and include Criminal Justice, Health Science, Political Science and Business.
Additional classes are in development, including one on medical marijuana growing and manufacturing, and partnerships are also being finalized for internships.
The Office of Continuing Studies is developing an online non-credit Cannabis Certificate program that is expected to launch in early 2019 with two courses. Participants will take six of seven planned courses to earn the certificate. Planned topics include cannabis law, medical marijuana, pain management, growing and manufacturing, marketing, and small business entrepreneurship.
The program has also received significant media attention, including an article in the Press of Atlantic City, as New Jersey expands its medical marijuana industry and the state Legislature debates legalizing recreational marijuana.
Learn more about the Minor in Cannabis Studies.