50th Feature: WLFR Celebrates 35 Years On Air
50th Feature:
WLFR Celebrates 35 Years On Air
Lake Fred Radio has been rocking since 1984.
By Kat H. Wentzell '18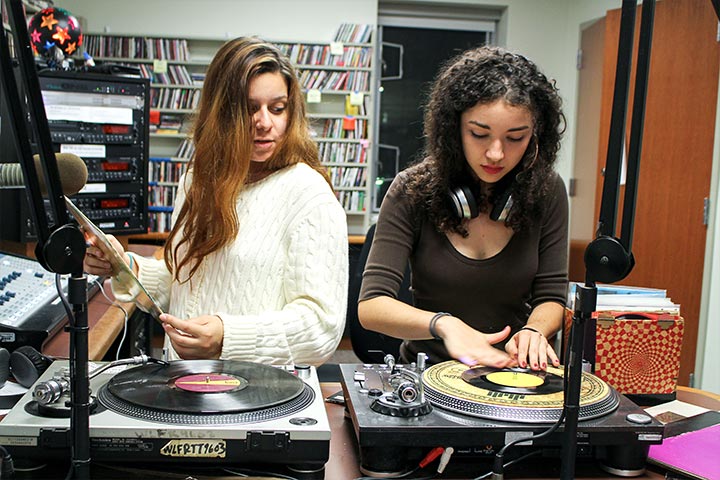 As Stockton University prepares to celebrate its 50th anniversary of teaching in 2021, Stockton Now will feature stories celebrating Stockton's past and present. Stay tuned for more information about our 50th celebration, read more Stockton Stories here and share your own!
Thirty-five years ago, on October 16, 1984, the lively melody of "People Get Ready" by The Impressions blared across the then-Stockton State College campus as radio station WLFR 91.7FM went live on the air for the first time.
"This station will stand for teamwork at this college," said then-Dean of Students Peter Mercado to a cheering crowd of students, kicking off the WLFR launch party. "It represents one more step in which we will actualize the dream of reaching out to the South Jersey community."
Paul Glaser, WLFR's current Content Manager, was there on this monumental day.
"I remember a big, square cake coming down the halls," he said. "Everyone was celebrating. There was a giant party outside of G-wing."
Before WLFR, there was WSSR, or Stockton State Radio. This station was run out of a small cabin by a handful of students and only reached on-campus housing.
WLFR, now located in the Campus Center, reaches thousands of listeners in Atlantic, Cape May and Ocean counties and was born from students' desires to deviate from the mainstream.
"

"[T]he radio station is now cooler than it ever has been, and I can say that because I've been here since the beginning."

"I was originally critical of WLFR when it started, because I was worried it would be like WSSR, which really just played a bunch of Grateful Dead music," said Glaser. "What was great was that the program director at the time knew the importance of having different, more out-of-the-box music, and pushed that."
According to current General Manager Chad Roberts, an average of 75 students work for WLFR annually – as DJs, interns and more. The station still prides itself on playing music listeners most likely will not find on regular FM radio.
Glaser said student DJs are required to research and present at least one genre foreign to them. In the later '80s, a DJ was chewed out for playing Pink Floyd, which was not "weird" enough for Glaser, who was General Manager at the time.
"I used to always say that if there was a student that wanted to play Lithuanian folk music, we'd immediately give them a show," he said. "Where else but WLFR are you going to hear niche music from someone who understands it?"
Many students agree with Glaser. Junior DJ Mariella Negro described WLFR as "dynamic, original and immersive."
"WLFR is the perfect place to expand one's musical tastes," she said. "Yes, it's a bit inconsistent in terms of content, but you'll find music that you won't get anywhere else!"
WLFR is part of Stockton's School of Arts and Humanities. After 20 years on air, WLFR joined the online radio world in 2004. What was once a station broadcast from the pines can now be heard across the globe thanks to their Listen Live feature online.
WLFR threw a 35th anniversary bash last month that featured local bands and some former and current DJs. The new WLFR logo was also unveiled.
"A lot of today's students romanticize 1970s/80s Stockton," said Glaser. "But the radio station is now cooler than it ever has been, and I can say that because I've been here since the beginning."