Witness to War
Witness to War
A WWII Veteran and Stockton professor keep history alive.
By Diane D'Amico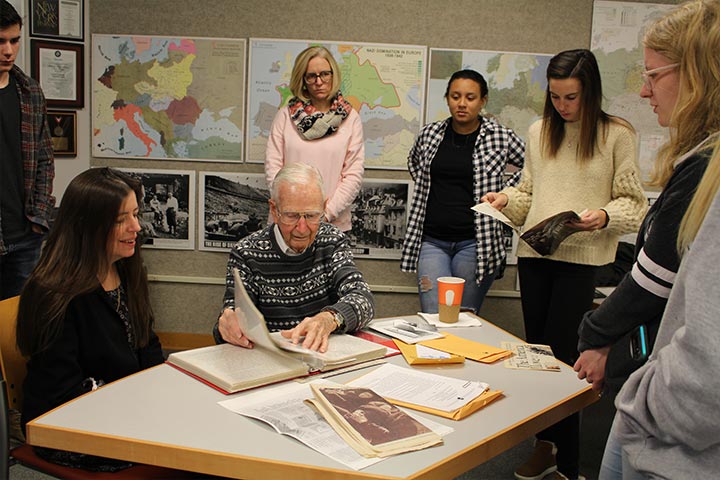 Andrew "Tim" Kiniry and Judith Vogel sat side by side surrounded by the photos of now deceased survivors of the Holocaust that fill the walls of the Sara and Sam Schoffer Holocaust Resource Center at Stockton University.
Vogel is a professor of Mathematics and coordinator of the Holocaust and Genocide Studies undergraduate minor at Stockton. Kiniry, 98, is a witness, a World War II veteran who served in a medical evacuation unit that was among the first to arrive at the infamous Buchenwald concentration camp in Weimar, Germany at the end of the war in April 1945.
Together they are keeping alive a crucial piece of history.
"It was a sight I will never forget," Kiniry told a small group of Vogel's students. "You go in not knowing what to expect and we see people with filthy clothes just hanging off them. They were just skin and bones and even while we were there, people were still dying. And the smell …. I could not understand how they had survived."
For the last five years, since he was introduced to Vogel by her daughter's teacher and Stockton alumnus, Louis Apalucci, Kiniry has visited Vogel's classes and talked about his experiences during the war. During that time a bond has formed and Vogel and Kiniry often meet for breakfast and are working on a book about his time in the war.
Much of Kiniry's data comes from detailed information in a huge red binder compiled by another member of his unit, Hyman Lebson. Lebson passed away, but Kiniry has kept his memory alive by sharing their war story. The book had no photo of Lebson, so Vogel made it her mission to find one.
She connected with Lebson's sons, Harvey and Roy, and their wives, Faron and Marilyn, and in July 2019 the Vogel family of five took Kiniry on a road trip to Baltimore to meet the Lebson family, who provided more photos and stories of their father's war experience.
Here is how Vogel recalls the trip:
"On July 22nd, we met Roy and Faron and Harvey and Marilyn at a little kosher grill outside of Baltimore. I joked with the waiter that we would need the table for about three hours…but three hours later, we were still sitting there.
Tim recognized Roy from across the restaurant because he looked so much like Hy, and everyone greeted each other like family. We had a wonderful lunch while swapping stories about Hy and Tim.
Then the sharing began. Harvey had brought with him large binders filled with photographs and memorabilia that his father had collected, and Tim went through each, page by page, sharing stories about the unit dogs and the faces that he remembered. We found Tim's name on a Thanksgiving menu and the family was able to ask questions about their dad as a young man far from home.
Tim shared with the family how he has used Hy's book. It has been taken apart and put back together to make it something he can share with students a page at a time. It is interspersed with his own memories, and it has been duplicated numerous times to share with family members and friends. It also now broadly displays all of Hy's pictures in the first several pages.
Tim was very concerned about their reaction to the metamorphosis of their dad's book, but they couldn't have been more gracious, praising all of his efforts to preserve the memory of the unit. It turns out that while their dad worked hard to document his wartime activities, he did not speak about them. In particular, he did not talk about Buchenwald. The family was thrilled that Tim was able to be this voice."
Kiniry said he never talked much about his own war experiences until he was in his 70s, met Apalucci, and started to hear about Holocaust deniers – people who claim it never happened. He has been speaking out ever since.
A veteran of the Battle of the Bulge, Kiniry's more than three years in the Army are defined by his time at Buchenwald where he helped cared for survivors.
Kiniry recalls how afraid the survivors were hesitant at first to take showers because the gas chambers that had murdered so many had been labeled as "showers." Many could not stomach solid food.
"We gave them eggnog, milkshakes, chocolate, anything that could build their strength," Kiniry said. "Some were so thin their skin would rip if you touched them. We would bundle them in sheets, the first they had touched in years."
Student Gabrielle Bibus, who is in Vogel's Children of the Holocaust class, said she had met a Holocaust survivor while in high school, but had never heard about the camps from a soldier's perspective.
"It can be hard to get veterans to talk, but it's so important," said Bibus, a literature and world languages major.
Kiniry just turned 98 and said he will tell his story as long as he can and there are people willing to listen.
"It was the most horrendous sight anyone would want to see," he said. "But I go to schools and I do talks because people have to know that this did take place."
Learn more about Stockton's minor in Holocaust and Genocide Studies.