Unified Science Center 2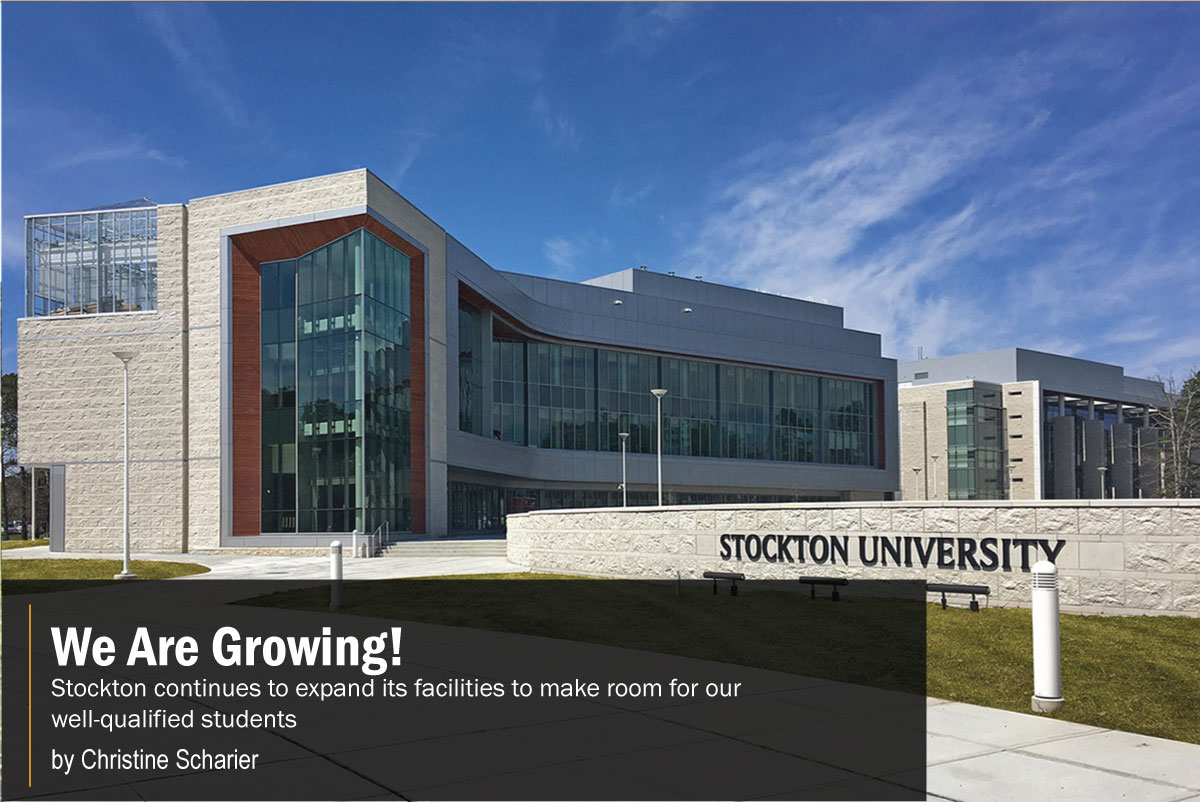 Unified Science Center 2 in foreground. Unified Science Center in background.
---
We Are Growing!
Editor's Note: Portions of the following was adapted from the May 2, 2018, press release "Stockton Dedicates New Academic Quad Expansion."
On May 2, 2018, over 200 people attended the dedication and ribbon-cutting of the new Academic Quad expansion. The $48 million project was funded through the N.J. Building Our Future Bond Act, with the University providing 25 percent of the cost as matching funds.
"As Stockton invests in the future of our students, we create new opportunities for them to take advantage of high-quality, affordable, accessible education, we also invest in the future of New Jersey" President Harvey Kesselman said at the dedication cermony.
The new quad buildings provide the academic tools for students seeking careers in science, technology, engineering and mathematics (STEM). The 58,210-square-foot expansion was added to the existing 64,000 square-foot Unified Science Center (USC) which opened in 2014. The facility features a greenhouse with three temperature zones, Physics, Organic Chemistry, Anatomy and Physiology labs, a vivarium, and a XROMM animal motion study room. A new Sustainability lab is located within the new Health Sciences Center, where students will study topics ranging from solar energy to organic farming.
From Construction to Opening
New Facilities Facts and Features:
58,210-square-foot facility
Four Physics teaching laboratories; dedicated Organic Chemistry teaching laboratory; an Anatomy and Physiology teaching laboratories; Biodiversity teaching laboratory
The new Sustainability Lab (housed within the new Health Sciences building) where students will study topics ranging from solar energy to organic farming.
New vivarium with specialized rooms and dedicated XROMM animal motion study laboratory
Three zone, state-of-the-art greenhouse with four sections: tropical, desert, main collection and research/class allocated
The first floor of USC2 will house an Anatomy laboratory, a classroom, an extensive state of the art vivarium, and Biology and Physics faculty research areas.
The Physics research facility holds our new Atomic Force Microscope (AFM). The AFM provides research students and cross-curriculum faculty the ability to create images of atoms and map the surface structure of materials.
The vivarium will have specialized rooms to house the terrapin project, as well as various animal and reptilian species, such as Poison Dart frogs and aquarium species. Within the vivarium, there is a dedicated biology XROMM research facility with real-time X-ray imaging and a CT scanner to study animal movement.
The second floor replaces the C-wing Physics laboratories, as well as the Organic laboratory in F-wing. The floor holds four Physics teaching laboratories with extensive equipment, such as air tracks, which allows students to experiment on a variety of equipment. The individualized organic lab allows students to participate in Chemistry experiments without the interference of another laboratory course.
The third floor houses three Biology teaching laboratories, Biology, Chemistry and Marine Science research laboratories, and a state-of-the-art greenhouse. The new greenhouse will double the size of the current greenhouse facilities located in F-wing and Arts & Sciences building. This spacious greenhouse is divided into four sections: tropical, desert, main collection and a research/class allocated space with three temperature controlled zones. The area dedicated to research/class space allows students and faculty to conduct more collaborative plant and laboratory research projects.
The new facilities will provide Stockton students research opportunities that far exceeds any other experience they may receive at another university. The research collaboration that Stockton students receive prepares them for graduate school or their field of study.