Welcome Stockton Community!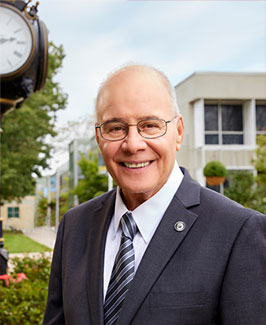 Dear Members of the Stockton Community,
As we begin the 2019-20 academic year, I want to welcome our new and returning students, welcome back our faculty and staff, and encourage everyone to join us as we continue to make history at Stockton.
Stockton has always welcomed students from diverse backgrounds, but we are recommitting ourselves to this mission by changing our student recruitment strategies and restructuring financial aid packages to ensure a better future. As a result, this year's class is incredibly talented and diverse.
We have also, of course, made history by expanding our operations. Just one year ago, we opened our Atlantic City campus, housing more than 500 students as residents of the city and educating some 2,000 as students in the Academic Center. I knew the new campus would generate excitement, but I have been overwhelmed by the outpouring of support we received from both Stockton alumni and Atlantic City residents.
We are especially grateful to Alfred and Gail Engelberg, Paul and Ellen Greenberg, and Charles and Lynn Kramer whose major gifts to support scholarships and programs in Atlantic City have been heartwarming.
Finally, you'll also notice important changes in Galloway. We will soon open our new, larger Military and Veterans Services Center, dedicate new facilities for the Women's Gender and Sexuality Center, and launch, with the SFT, a new plaza commemorating the contribution of union members to our institution's growth. All are opportunities to reflect on who we have been, and what we are becoming, as we approach our 50th Anniversary in 2021. Enjoy the term!
Best regards,
Harvey Kesselman
President
Stockton University