Brian K. Jackson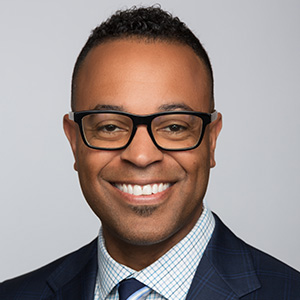 Chief Operating Officer, Atlantic City Campus

Brian K. Jackson serves as Chief Operating Officer for the Atlantic City Campus of Stockton University. Most recently, he served as Chief of Staff to the President and Assistant Secretary to the Stockton Board of Trustees from 1998-2017. His former professional experience includes serving as Manager of Administrative Planning, Budgeting and Research and an adjunct instructor at Atlantic-Cape Community College.
An active and passionate volunteer, Brian serves on several community boards including Family Service Association Board of Directors and the Seashore Gardens Living Center Foundation Board. He is also a member of the United Way of Atlantic County Board of Directors for the last 19 years, was chair of the board from 2010-2012, and chair of the Community Initiatives Committee for seven years, overseeing the collaboration of programs such as Success by Six, Women's Leadership Initiative, The Volunteer Center, and the Community Needs Assessment. In 2010 Brian participated on the regional design team that successfully implemented a merger of seven United Ways throughout Southern New Jersey and the greater Philadelphia/Delaware Valley region. In 2012, Brian was appointed to the newly formed regional board of directors of the United Way of Greater Philadelphia and Southern New Jersey and is serving his third appointment.
In 2002, Brian help found The African American Heritage Museum of Southern New Jersey (with locations in Atlantic City and Newtonville, NJ) and served as vice chair of the Museum's Board of Directors for fifteen years. In addition, he has co-chaired since 2004, Stockton University's Annual Dr. Martin Luther King, Jr. Day of Service, the largest gathering of community volunteers in Southern New Jersey. The event attracts annually, nearly 1,000 volunteers and over 30 service projects throughout three Southern New Jersey counties.
Brian has received many awards, citations, and proclamations in recognition of his professional and community engagement, including The Alan Angelo Award for Community Service and the George Lynn Volunteer of the Year Award, presented by the United Way of Atlantic County to a volunteer who shows extraordinary commitment to the organization and to the general well-being of the community. He also received the 2007 Merit Award from the Council of Black Faculty and Staff of Stockton University and was a designee of the 2008 Atlantic City Weekly's Annual Top 40 under 40. In 2012 he received the
Peacemaker Award for Educational Leadership from A Season for Nonviolence. In 2016 he was inducted into the Order of Omega Society which honors leadership of those affiliated with Greek Fraternities and Sororities. That same year, Brian was awarded the Stockton
On May 20, 2017, Brian received the Black Leadership in Higher Education Community Service Award at the 101 Women Plus, Inc.- 34th Annual Black Leadership & Scholarship Gala. He was also awarded the Labov Bernstein Community Service Award by the Seashore Gardens Foundation at its Annual Gala in August 2017.
Among his affiliations, Brian is a member of Kappa Sigma Fraternity, The Richard Somers Society, and is a past member of Atlantic County Community Emerging Leaders (ACCEL). He has also served as a member of the Association of Governing Board, serving from 2016-18 on the national program planning committee the annual Fall and Spring Conferences for Board Professionals.
Brian, along with his husband and partner of fifteen years, Michael Olivieri-Baker, owned and operated It's A Doggie Dog World, LLC, an upscale pet boutique, pet bakery, and professional grooming services business in Egg Harbor Township and Voorhees, NJ, from 2008-2014. Recognized by the Press of Atlantic City among its Best of the Press, the business supported a number of community based charitable organizations including The Humane Society of Atlantic County, Beacon Animal Rescue, New Jersey Boxer Rescue, Penny Angels Beagle Rescue, and Atlantic County Toys for Kids.
Born in Boston, Massachusetts and raised in Baltimore, Maryland, Brian holds a Bachelor of Science Degree in Economics and Finance and a MBA from Southern New Hampshire University. A graduate of the Atlantic City Tomorrow Leadership Program, Brian was also selected as one of fifty emerging leaders in New Jersey to receive a 2007 Leadership New Jersey Fellowship.