Vessels and Field Equipment
Stockton's research vessel (R/V) fleet includes five workboats ranging in size from 16-36'. Each vessel provides a platform geared toward specific teaching and research activities. Faculty and staff utilize these vessels as platforms from which to conduct their marine research and teaching activities. All vessels are maintained to standards set forth by the USCG and are designated as Oceanographic Research Vessels.
Stockton works collaboratively with visiting scientists and educational institutions through mutual agreement arrangements. If you have research or educational support needs in our areas please contact the Marine Field Station Manager.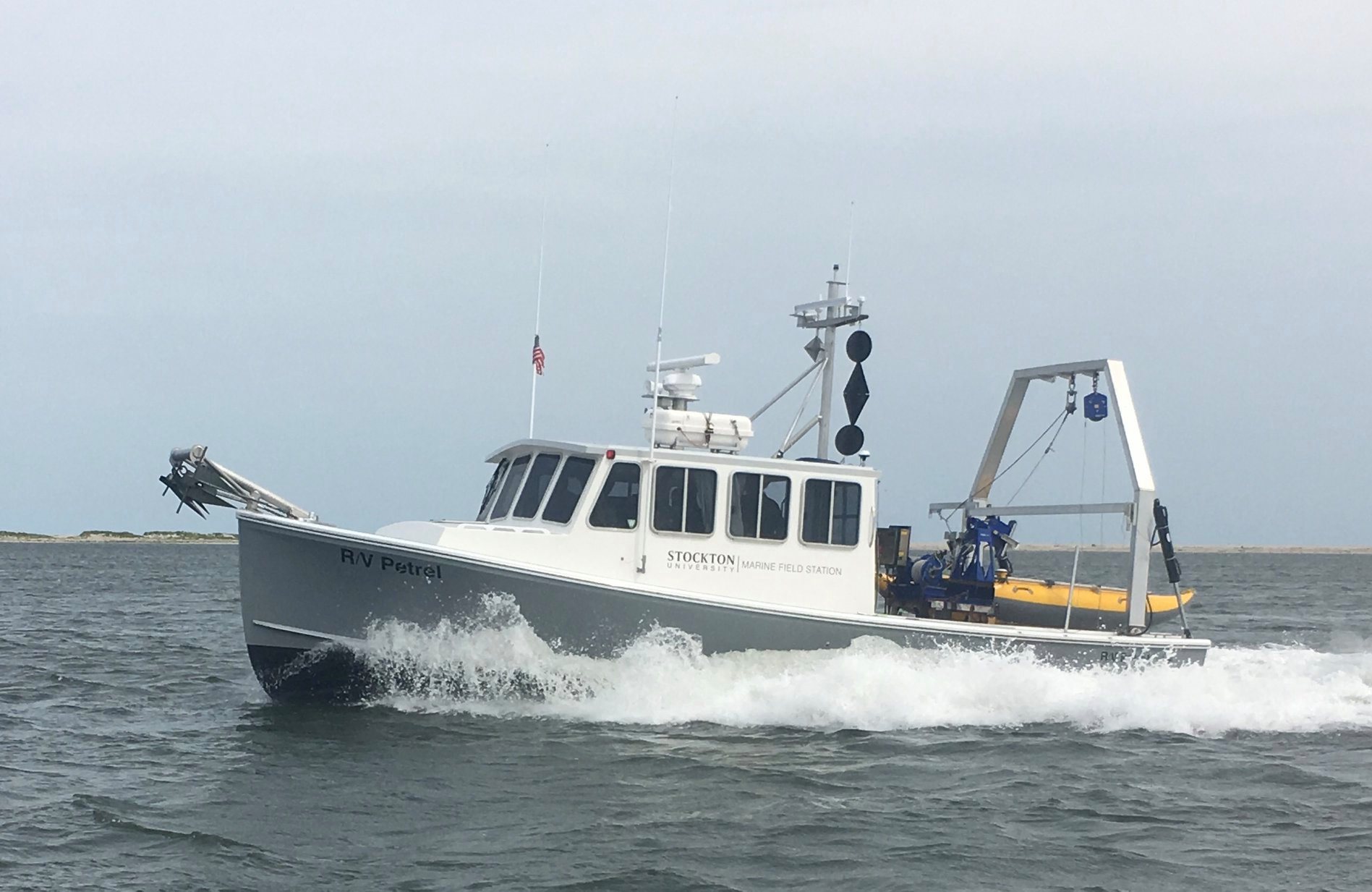 R/V Petrel
The 36' x 14' R/V Petrel was built in 2015 (SW Boatworks, Lamoine, ME and Jersey Cape Yachts, Lower Bank, NJ) to meet Stockton's expanding needs in marine survey and oceanography. The Petrel is a well-outfitted day trip survey vessel capable of deploying bottom mounted instruments, buoys and medium-sized towed sensors with its open transom and 10' clearance gantry. The wheelhouse of the Petrel provides a comfortable survey station for sea floor mapping and ADCP survey work and serves as a floating classroom for instructional purposes in the field of marine technology.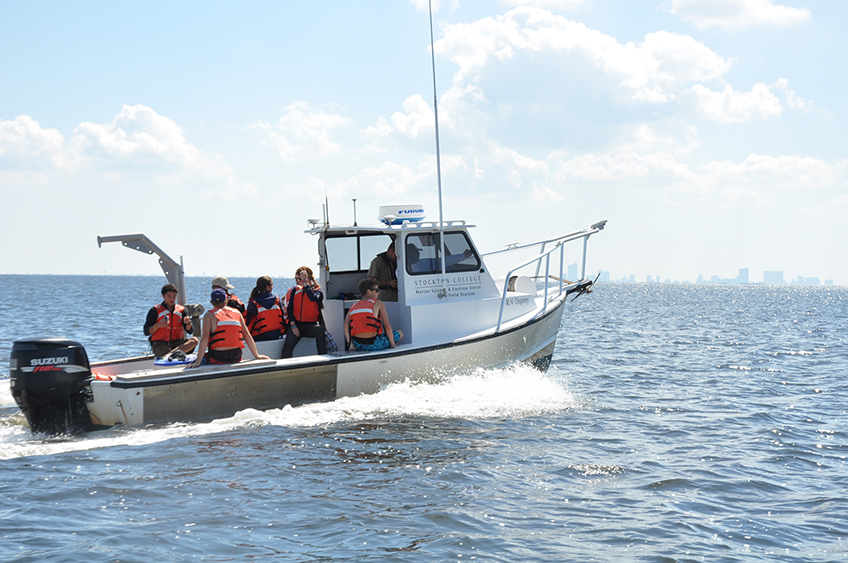 R/V Osprey
The 24' x 8' R/V Osprey (Glass Boat Works, Exmore, VA) is named after the school's mascot - a coastal bird of prey and symbol of strength and agility in the coastal environment. This vessel provides an excellent platform for research and teaching activities throughout the river and bay systems.
The Osprey maintains the relatively shallow draft required of research in the estuary and is also used for shallow water survey work. The Osprey has a davit-winch system used to deploy bottom grabs, coring devices and water quality instruments.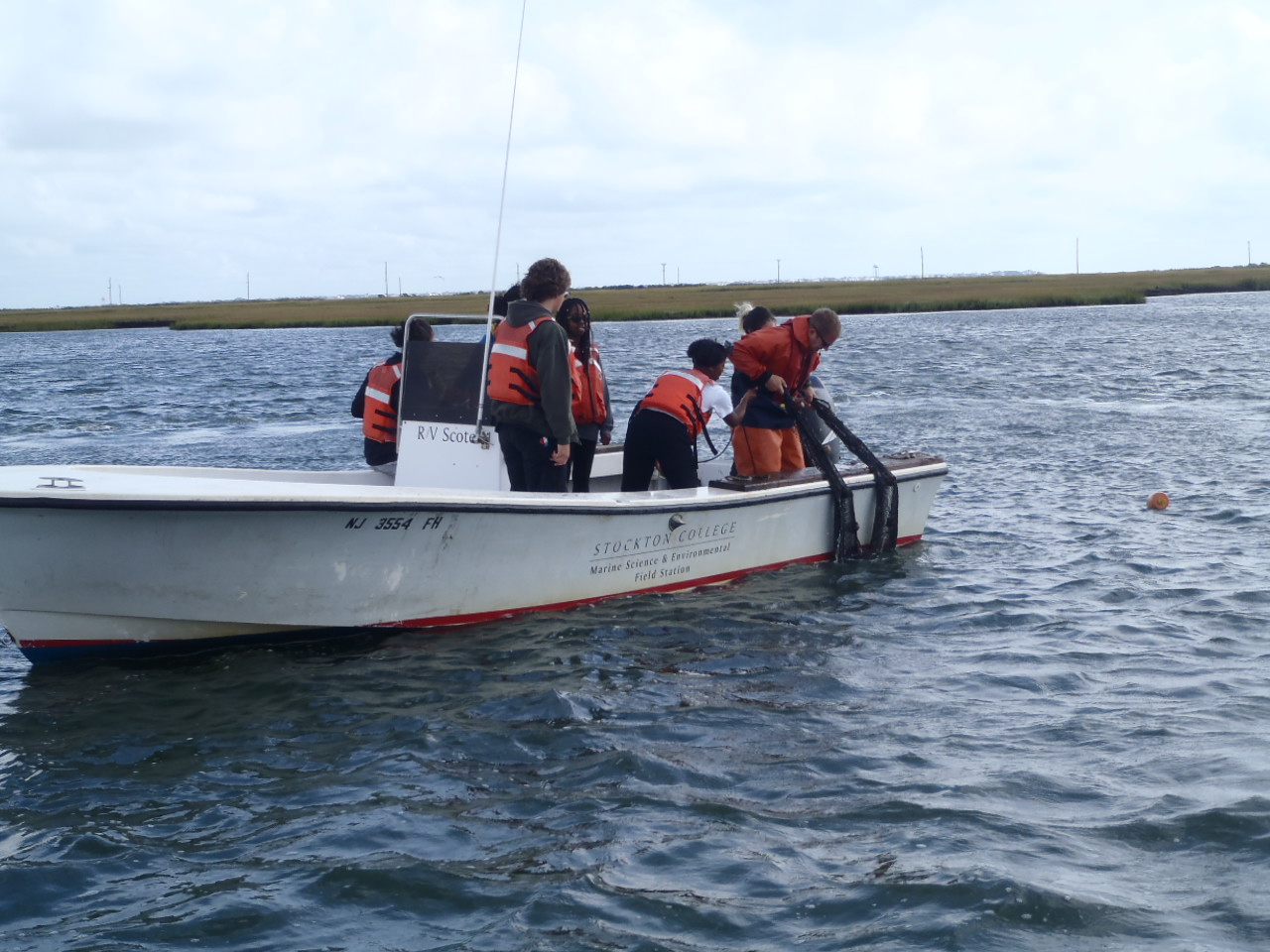 R/V Skimmer/Scoter
Research vessels Scoter and Skimmer hail from our original fleet of 21' x 8' Privateers (Belhaven, NC) and are used extensively in to transport students to sampling sites throughout the coastal bays. These boats provide faculty and staff the ability to navigate shoal waters, accessing our many near-shore seining and marsh sites.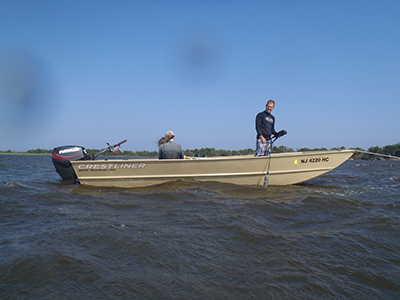 R/V Zostera
The R/V Zostera is perfect for shallow water estuarine work as well as for trailering to freshwater lakes and the upper reaches of tidal freshwater rivers.
The Zostera is available to faculty and students requiring small boat access to specific areas. It is stored on a trailer at the Field Station and is available with a handheld GPS unit, safety equipment and oars.
Safety Programs
The Marine Field Station is an extension by location of the Stockton University campus and as such falls under the governing policies and procedures of the University. The following sections serve as highlights and site-specific policies and procedures; however, it is important to note that all University-wide policies and procedures apply to the employees, students, visitors and facilities of the Port Republic site and marine operations described here.
Marine operations are defined here as those activities that engage individuals in activities aboard a vessel and within the marine or extended marine environments (tidal rivers). Stockton University's Marine Operations Standard Operating Procedures (MOSOP) generally follow, to the extent practical, the guidelines established in the SBSA Boating Safety Program Guidelines. The University is a member of the Scientific Safe Boating Association (SBSA) and the University National Oceanographic Laboratories System (UNOLS).
Stockton-owned vessels (>20' LOA) are designated by the United States Coast Guard as Oceanographic Research Vessels (ORV) under the provisions provided by CFR 46 Subchapter A part 3 – Oceanographic Research Vessels. All vessels are maintained to the standards set forth for uninspected vessels designated as ORVs and are inspected by the USCG at least every two years.
Marine Operations Standard Operating Procedures (MOSOP)
MFS COVID-19 marine operations procedures
Field Sampling Equipment
The Marine Field Station is responsible for housing and maintaining the majority of Stockton's coastal field sampling equipment. The hands-on teaching approach that exemplifies the science programs at Stockton offers considerable opportunities for students to become well trained on the use of standard and advanced equipment and instruments. This training provides our students with practical experience that, when coupled with a strong academic foundation, places them into competitive ranks for securing post-graduate positions or seeking advanced degrees.