Vessels and Field Equipment
Stockton's research vessel (R/V) fleet includes five workboats ranging in size from 16-36'. Each vessel provides a platform geared toward specific teaching and research activities. Faculty and staff utilize these vessels as platforms from which to conduct their marine research and teaching activities. All vessels are maintained to standards set forth by the USCG and are designated as Oceanographic Research Vessels.
Stockton works collaboratively with visiting scientists and educational institutions through mutual agreements and other contracting methods. If you have research or educational support needs in our areas please contact the Marine Field Station.
Field Sampling Equipment
The Marine Field Station is responsible for housing and maintaining the majority of Stockton's coastal field sampling equipment. The hands-on teaching approach that exemplifies the science programs at Stockton offers considerable opportunities for students to become well trained on the use of standard and advanced equipment and instruments. This training provides our students with practical experience that, when coupled with a strong academic foundation, places them into competitive ranks for securing post-graduate positions or seeking advanced degrees.
Aquaculture and Specimens Diplay
Assorted aquaria and holding tanks with ambient, flow-through capability.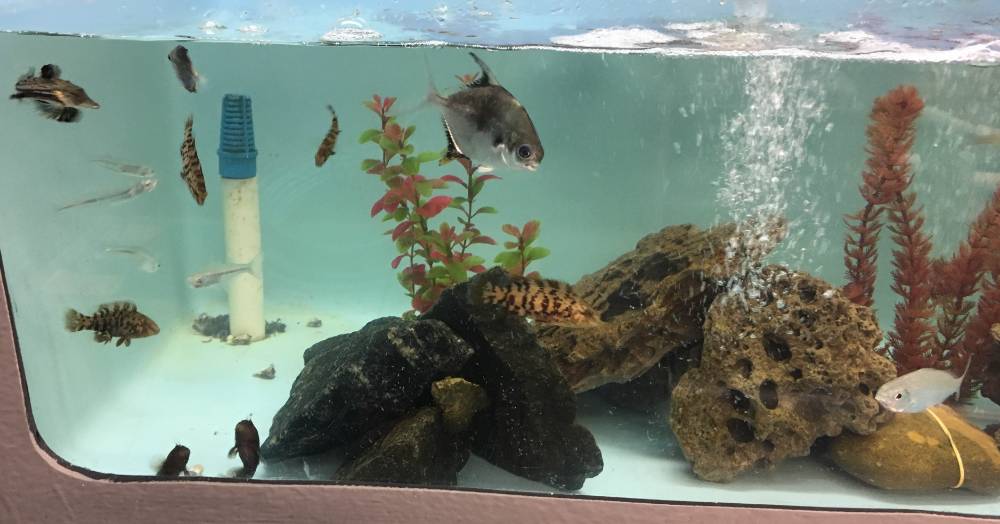 EdgeTech 6205
Offers combined, fully integrated, swath bathymetry and side scan sonar systems that produce real-time high resolution three dimensional (3D) maps of the seafloor while providing both side scan and bathymetric data simultaneously.
Source:edgetech.com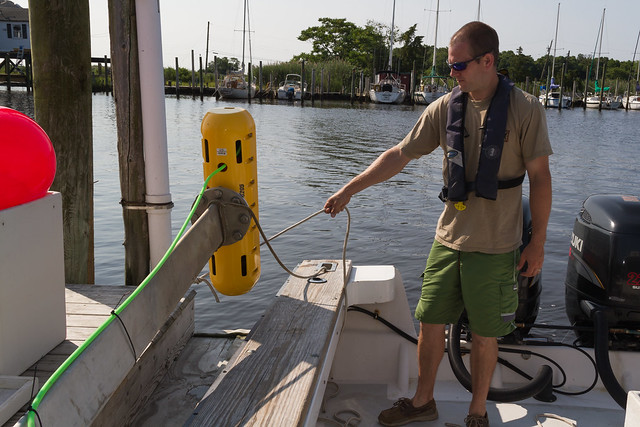 EXO2 Multiparameter Sonde
Includes the versatile multiparameter EXO2 sonde for oceanographic, estuarine, or surface water applications.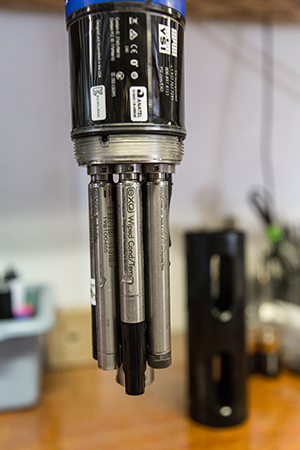 Key Benefits
High-accuracy sensors with on-board memory
Wireless communications
Seamless integration into marine, estuarine, freshwater and ground water monitoring systems
Smart Sondes and Sensors
Extremely versatile instrument, allowing the user to automatically configure a sonde with different sensor for different applications in minutes.
Accuracy
Tested in a variety of rigorous field conditions as well as lab conditions to ensure accuracy and response times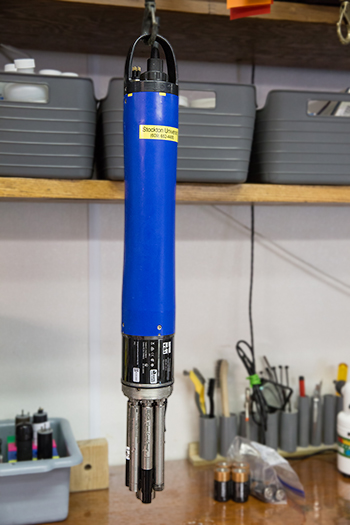 (Left) YSI EXO2 Multiparameter Sonde; (Right) Removeable smart sensors.
Monitor without Interruption
No matter which EXO sensors users select, other features of the sensors' design make them rugged and durable:
Wet-mateable connectors resist corrosion
Isolated components prevent short circuits
Welded housings and double o-rings prevent leaks
High-impact plastic and titanium resists breaking
Built-in antifouling systems protect data integrity.
Low power consumption extends underwater deployment
Source: ysi.com
Hydrographic Survey
RTK GPS navigation on R/V's
Klein 3900 Side Scan Sonar
Edgetech 6205 multibeam sonar
R2Sonic 2024 multibeam sonar
Marine Magnetics Explorer magnetometer
ADCPs: Teledyne River Pro and Sentinel V
Seabotix LBV300 Remotely Operated Vehicle

NSF funded, DBI - 0959426

Dynascan mobile LiDAR
AML and YSI sound velocity profilers and CTDs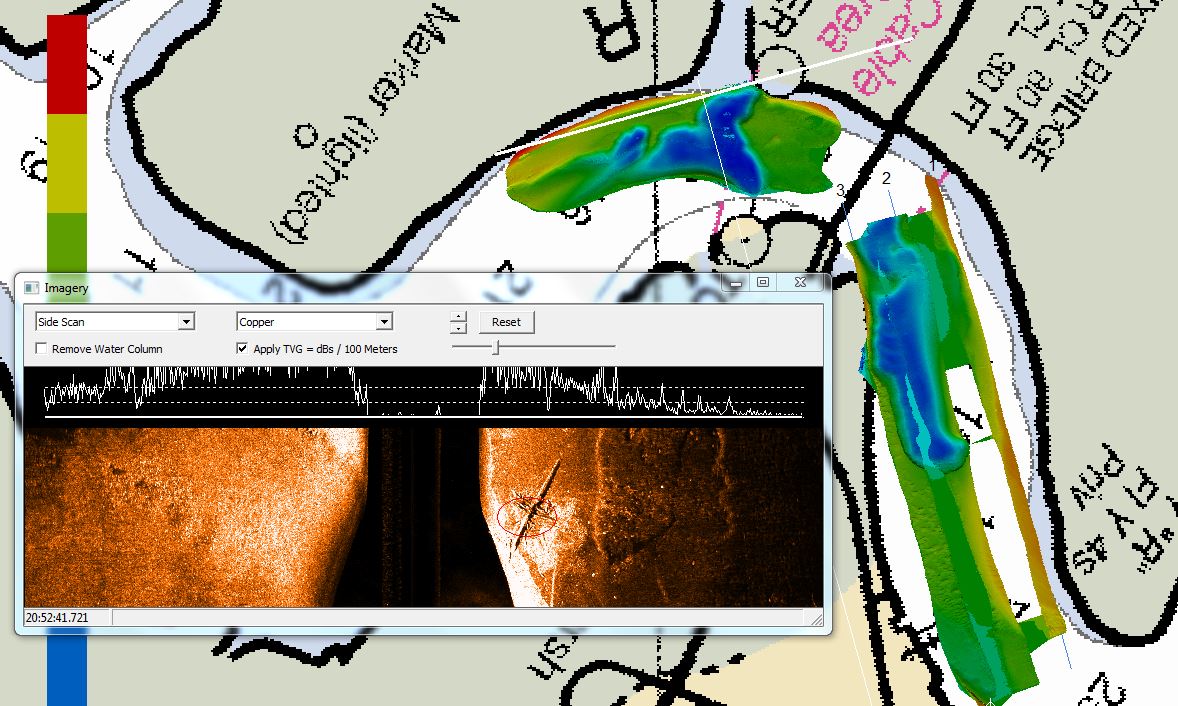 Klein System 3900 Digital Side Scan Sonar
Extremely highresolution, digital sonar for use in search and recovery missions that require a portable side scan system. The model is a selectable, dual-frequency system with 445 kHz, which offers excellent range and resolution, and 900 kHz, which offers higher resolution of identified targets.
Source:kleinmarinesystems.com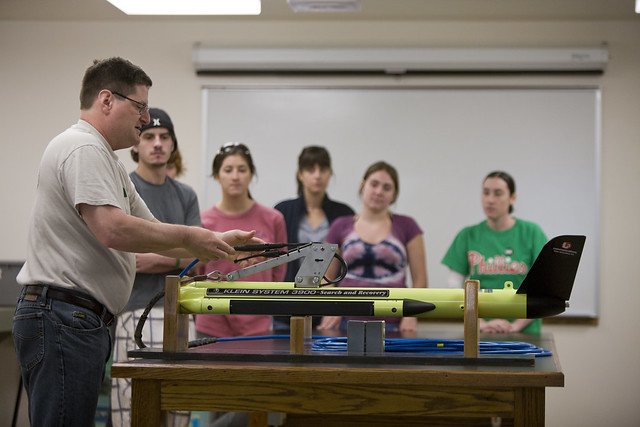 Marine Magnetics Explorer (Magnetometer)
Inshore, shallow water work
Offshore towed behind side scans, AUVs and ROVs.
Inshore geophysical survey
Archeology
Wreck detention
Magnetic mapping of harbours
Ferrous target detection in lakes, rivers and estuaries

Explorer can be powered by a single car battery for up to 200 hours.
Source: marinemagnetics.com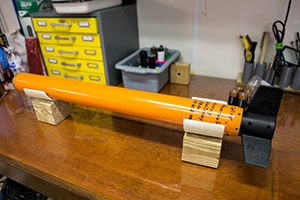 Marine Science Laboratory
32 Workstations
Dissecting and compound microscopes
Video Microscope system with Image Capture
Atomic Absorption Spectrometer
Spectronic 20D Spectrophotometers
Ro-Tap Sieve Shaker
Drying ovens and furnaces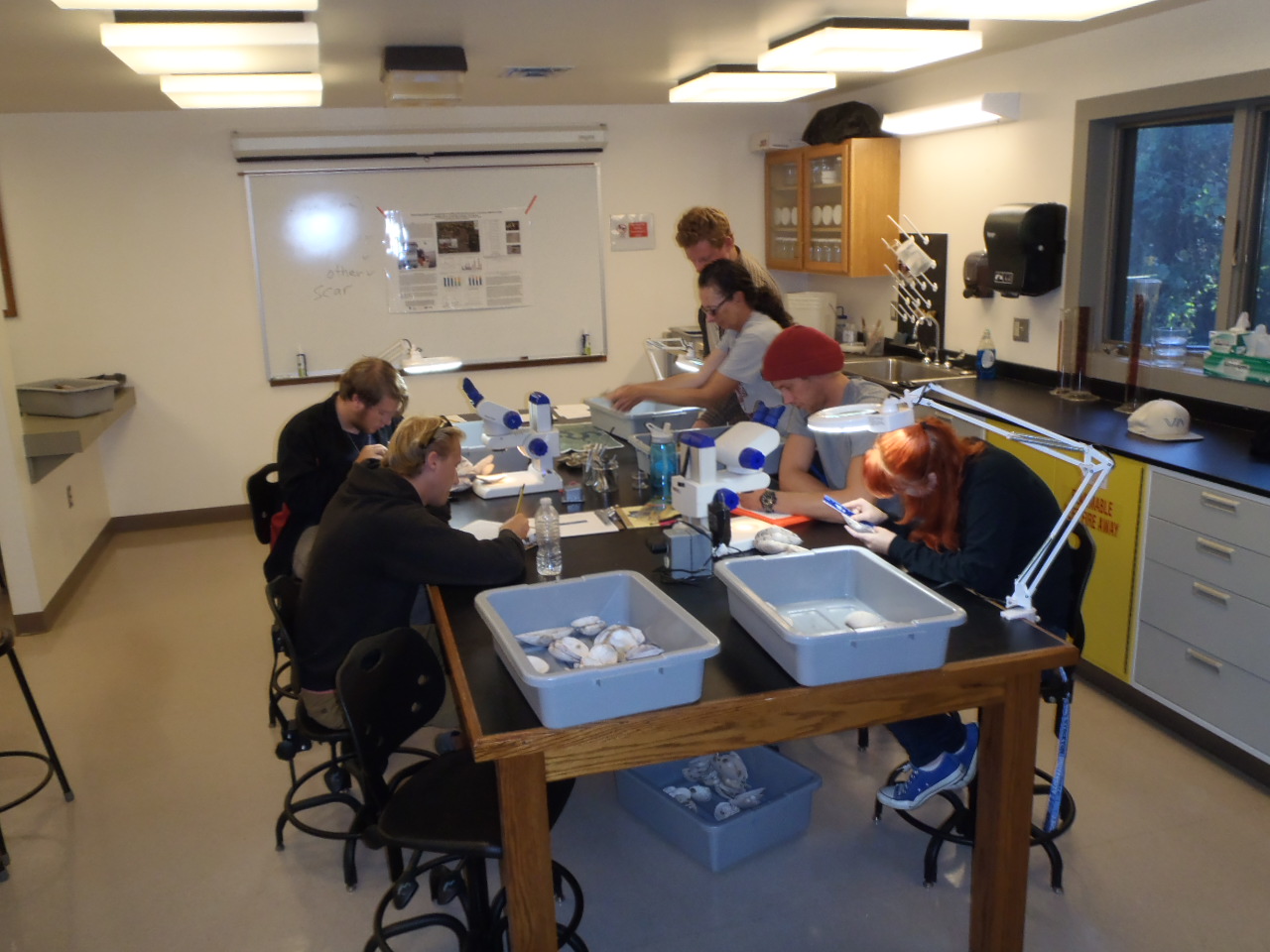 Nets and Dredges
10-100' Beach Seines
16' and 25' Otter Trawls
Assorted Plankton Nets 49-500um
Oyster Dredge
Patent Tongs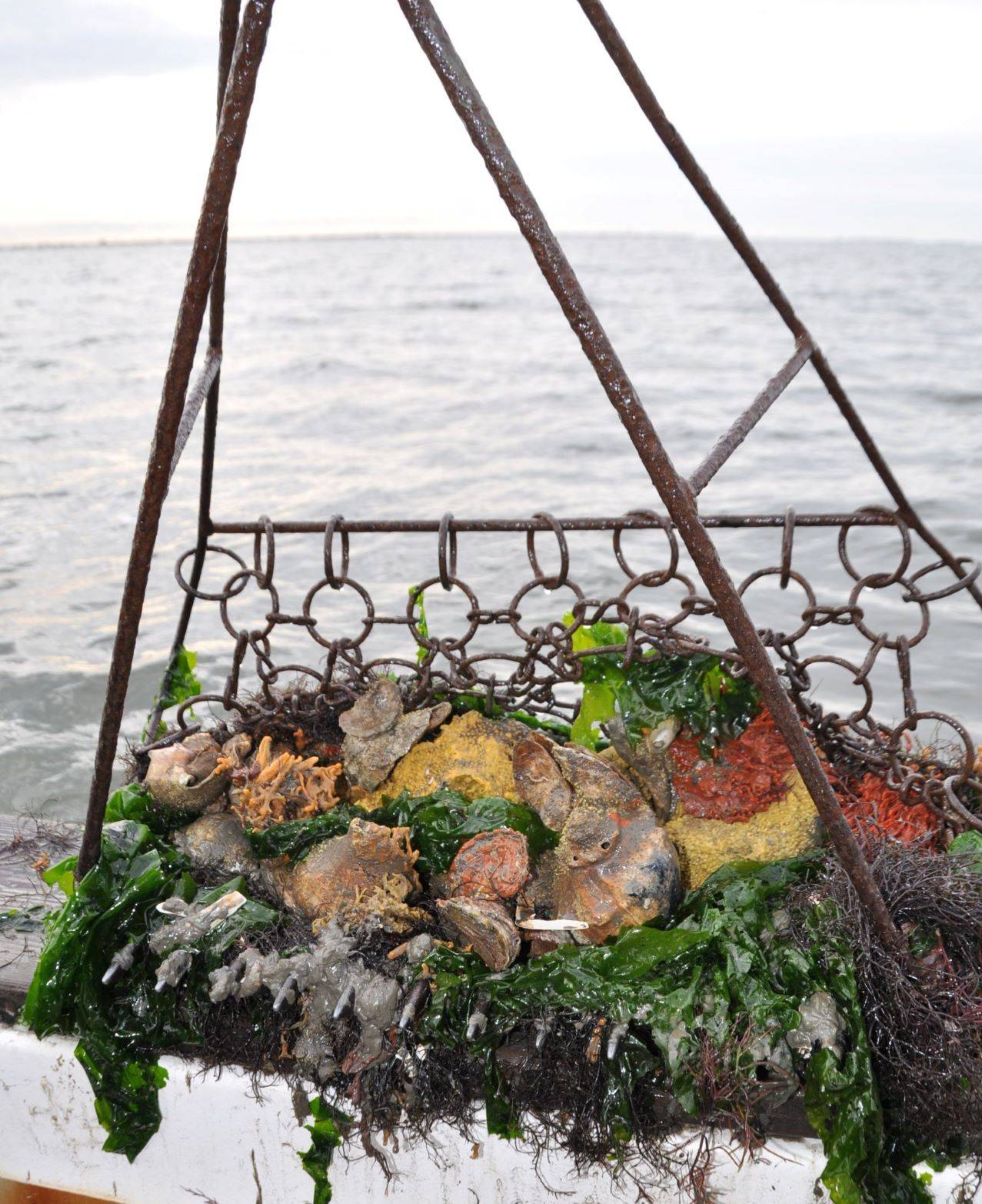 Image: Osyter dredge (top).
R2 Sonic 2024 Multibeam Echosounder
The R2 Sonic 2024 MBES is coupled with an Applanix I2NS was funded through a National Science Foundation Award (OCE-2117693) and is used for high resolution sea floor mapping within then hydrography program courses and research programs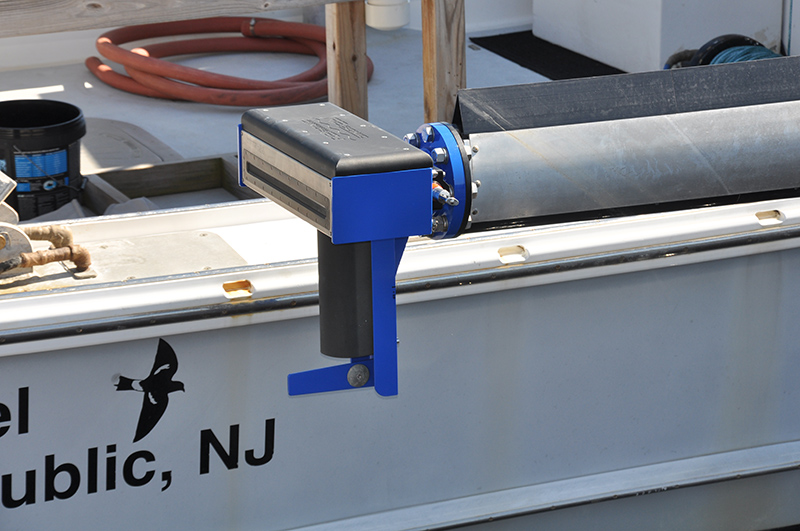 SeaBotix Remotely Operated Vechicle (ROV)
Includes a high-resolution color camera, depth and temperature settings. The standard lateral thruster allows for sideways flight and the ability to fight currents from any direction.
Includes scanning and navigation sonars (allowing for operation in zero-visibility waters), tracking systems, and a single-function manipulator with multiple attachments.
Features
300 meter (1,000ft) depth rating and tether
lengths to 350 meters (1,150ft)
5 Powerful brushless DC thrusters with individual oil-compensators
4-axis maneuverability including dual vertical
thruster configuration
Ultra small diameter high strength, durable, low drag tether
Crystal clear video and high resolution low light color camera
270º range of view with high intensity LED array tracking camera
Patented hull crawling skid option for increased capability in currents up to 5 knots
Extensive range of options including laser scaling, grabber, zoom, LED lighting and more
Source:ocean-innovations.net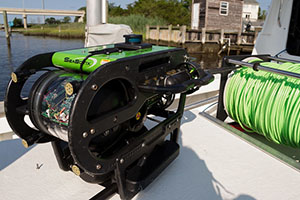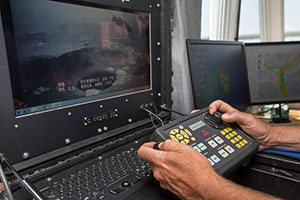 Sediment Sampler
Other sediment sampling equipment:
Ponar Grab Sampler
Wildco Corer
Vibracorer
Stacking Seives/Shaker
Box Seives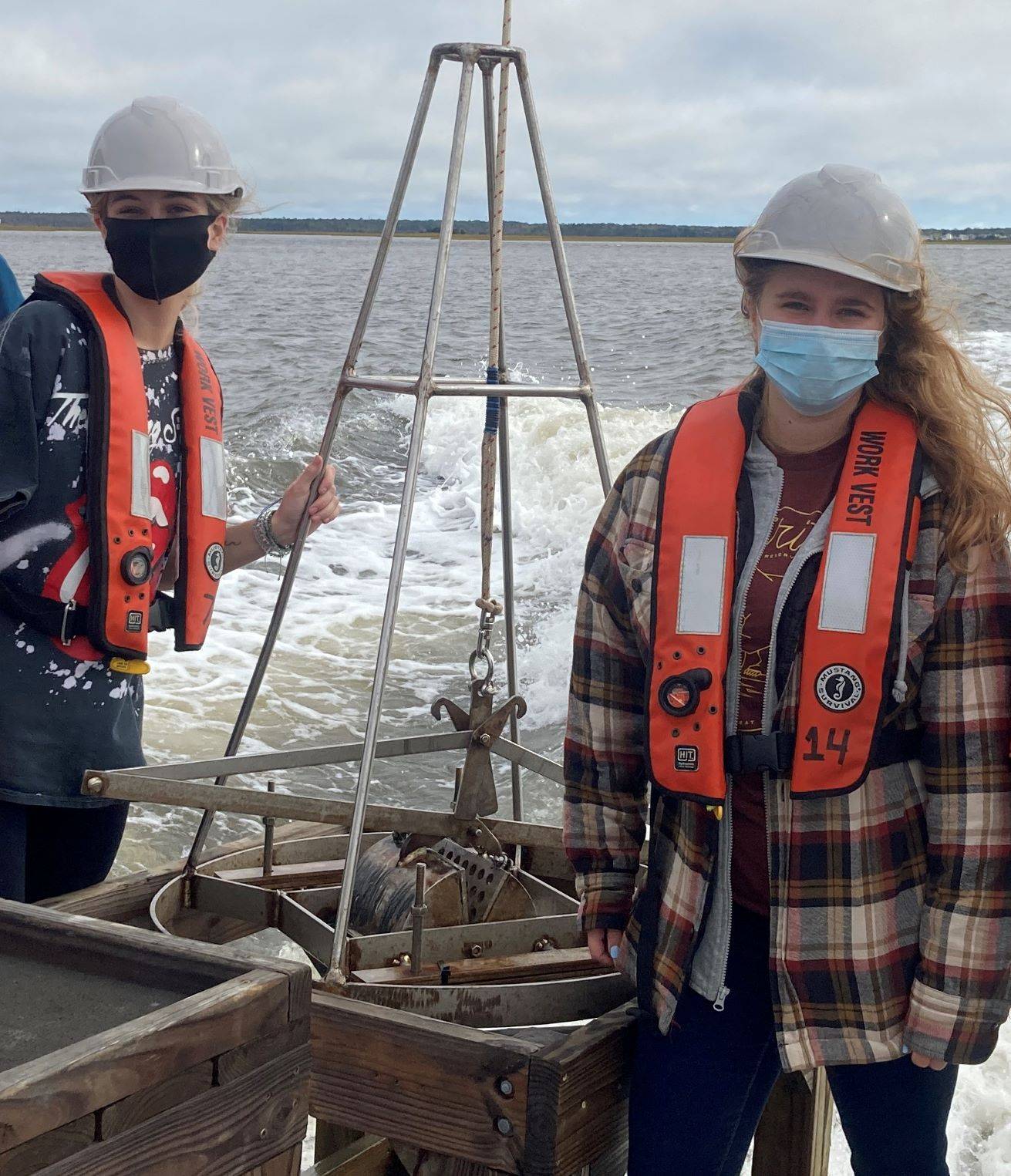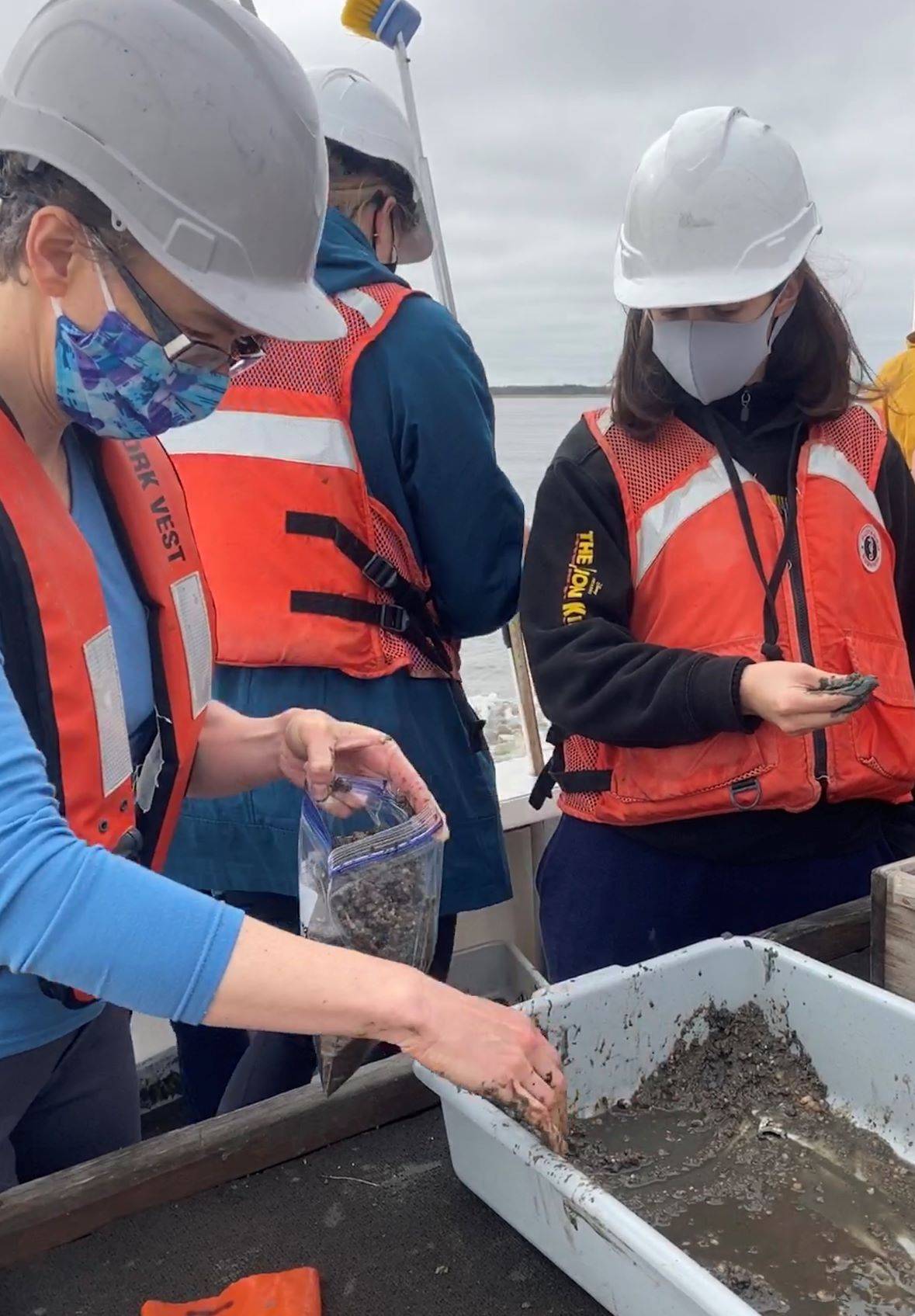 Photo:Young-Modified VanVeen Grab Sampler (left).
SonTek Castaway - CTD
The CastAway-CTD is a small, rugged and technically advanced CTD designed for profiling to depths of up to 100m. The system incorporates modern technical features which allow it to achieve a 5 Hz response time, fine spatial resolution and high accuracy. It uses a six electrode flow-through conductivity cell with zero external field coupled with a rapid response thermistor to attain high measurement accuracies.
Plots of conductivity, temperature, salinity and sound speed versus depth can be viewed immediately on the CastAway's integrated color LCD screen in the field. Raw data can be easily downloaded via Bluetooth to a Windows computer for detailed analysis and /or export at any time.
Source:sontek.com/castaway-ctd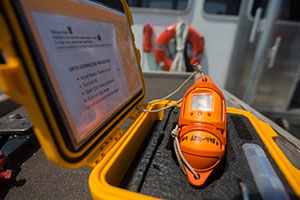 Instrumentation used in the 2019 3rd place NAMS symposium Tidal Variability of estuarine circulation in Little Egg Inlet
Abstract
Teledyne Marine RiverPro ADCP
The 1200 kHz RiverPro provides an ADCP designed specifically for shallow river applications (20 cm to 25 m range) and provides an upgrade path for our current industry gold-standard Rio Grande ADCP users.
Key Features
A 20-degree beam, allowing users to collect data closer to the bottom

A 600 kHz 5th beam collects true vertical velocity with a calibrated RSSI (return signal strength indicator) and range to bottom

Fully integrated GPS for geo-referencing

Auto-adaptive sampling, which quickly provides accurate discharge measurements without the need for user configuration

A manual override, which allows advanced users the ability to fully customize their system setting as an alternative to auto-adaptive sampling.
Source:teledynemarine.com/riverpro-adcp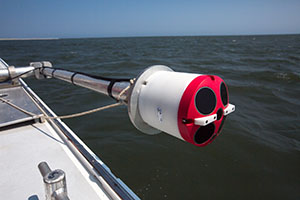 Instrumentation used in the 2019 3rd place NAMS symposium Tidal Variability of estuarine circulation in Little Egg Inlet
Abstract
Teledyne Marine Sentinel V Acoustic Doppler Current Profiler (ADCP)
The lightweight and adaptable Sentinel V is easily deployed on buoys or mounted on the seafloor. Real-time data can be transmitted to shore via a cable link or acoustic modem, or data can be stored internally for short or long-term deployments. With a pressure sensor delivered standard in Sentinel V, this highly versatile tool can be easily upgraded via an electronic firmware update to calculate directional and non-directional wave parameters.
An integrated 5th beam provides a direct vertical velocity measurement and a 5th range to the surface measurement, allowing for enhanced turbulence and waves measurement capabilities.
Measure vertical velocity profile
Measure high-resolution echo intensity profile
Measure range to the surface
Allows turbulence measurements
Allows error velocity validation with 3 beam solutions
Allows redundant error velocity validation with 4 beams
Allows robust zero-up waves parameter
Source: ocean-innovations.net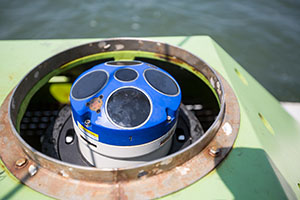 (Top above) Teledyne Marine Sentinel V Acoustic Doppler Current Profiler (ADCP); (Image Below) Bottom mount for the Sentinel V ADCP.