Marine Debris
Stockton researchers have been working on marine debris programs in New Jersey's coastal bays since 2009. Utilizing the hydrography program support at the MFS, researchers at Stockton identify and map marine debris, primarily lost fishing gear, using side scan sonar. The research team emphasizes collaboration with the commercial fishing community to recover lost gear for both the ecological and economic benefits that the recovery programs have. Removing lost fishing gear from coastal bays decreases threats to target and non-target species as well as hazards to navigation. Less lost traps equal more bottom space for active traps and can lead to higher catch rates for target species (blue crabs).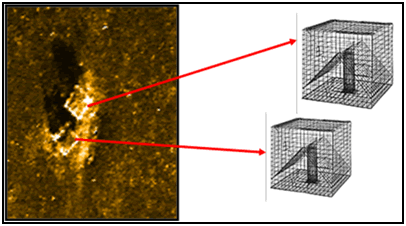 side scan sonar image of a pair of lost crab pots
Researchers at Stockton have received funding from NOAA's Marine Debris Program in 2012, 2015 and recently in 2018. A primary objective of Stockton's marine debris research is to assist the commercial trap fisheries in reducing lost gear through directed watermen sonar training programs. Related links are below;
For more information about current projects or to collaborate in our region on a marine debris project Dr. Mark Sullivan. For commercial fishery inquiries or to be considered for our programs contact Steve Evert.
<<< Back to Main Research Page