GOALS Gear Up Program
The GOALS GEAR UP Program at Stockton University serves students in grades 7 through 12 and first-year enrolled college students at Atlantic City and Pleasantville Public School Districts.
Our program provides participants with a solid foundation to create a school-to-college pipeline designed to empower and equip students with skills and academic ability to successfully complete postsecondary programs leading to careers in fields in which persons from minority and/or disadvantaged backgrounds are underrepresented.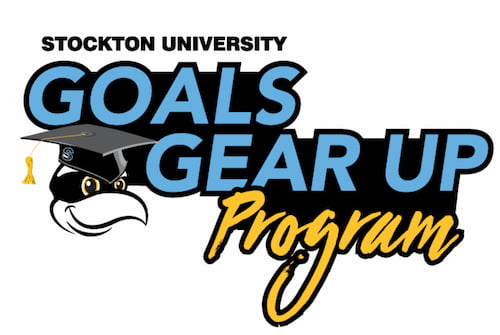 How the GOALS GEAR UP Program can help students.
Our academic year program includes a collaboration with schools to provide:

Academic and Summer enrichment programs
Academic and career counseling
Assistance with college applications and FAFSA completion
Educational field trips and college visits.
Financial aid information workshops
Standardized test preparation
Mentoring
Parental Activities
Saturday Instructional classes
Extensive "knowledge on" college admission process.
Cultivating self-esteem, and developing leaders
GOALS GEAR UP programs are designed to enhance students' intellectual abilities in Math, Marine Science, English, Public Speaking, and Computer Science.
An emphasis is also placed on socio-emotional learning, cultivating self-esteem, and developing leaders who will be prepared to navigate postsecondary education and enter the workforce.
The GOALS GEAR UP program is free.
Students are provided with books, instructional supplies, field trips, meals, and public transportation tickets at no cost.
---
GOALS GEAR UP at Stockton University - Atlantic City Campus is supported by funds from New Jersey Office of the Secretary of Higher Education, Pleasantville Public School District, Atlantic City Public School District, and Stockton University.